Jodi Arias' death penalty trial is set to resume in Arizona today, following an aggressive follow-up by prosecutor Juan Martinez.
Arias concluded her 18th day of testimony in the murder trial on Wednesday. Martinez spent much of the day questioning Arias' version of the events on June 4, 2008 when her ex-boyfriend Travis Alexander was shot and stabbed inside his Mesa home.
"Your scenario is impossible," a frustrated Martinez said regarding Arias' recollection that Alexander attacked her when she dropped his camera.
Arias is charged with first-degree murder in Alexander's slaying and prosecutors contends she stabbed Alexander 27 times, shot him twice in the face and slashed his throat in a jealous rage. Arias told jurors she killed her ex-boyfriend in self-defense during an argument over the dropped camera that followed his escalating sexual demands.
The trial is set to resume at about 12:30 p.m. Eastern time on Thursday, when the defense is expected to call additional witnesses.
Read below for minute-by-minute updates from court Thursday:
03/14/2013 6:58 PM EDT
Recess
The judge has called the evening recess. The trial will resume on Monday.
03/14/2013 6:50 PM EDT
More On PTSD
Dr. Samuels is still detailing criteria for PTSD.
03/14/2013 6:47 PM EDT
Another Slide Shown To Jury: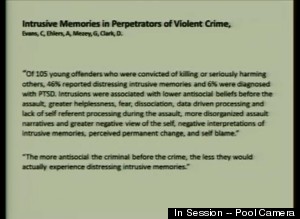 03/14/2013 6:41 PM EDT
'A Little Off'
Nothing against him but Why is he just now realizing some of these things seems a little off #jodiarias

— Cali4x4girl (@OCALIGIRL4X4) March 14, 2013
03/14/2013 6:39 PM EDT
Said He Forgot Another One:
C7: Sense of foreshortened future
03/14/2013 6:38 PM EDT
He Forgot One:
C5: Feeling of detachment or estrangement from others
03/14/2013 6:37 PM EDT
Arias PTSD Test Results:
Dr. Samuels said Arias met the following criteria for PTSD:
A1: The person has experienced, witnessed, or been confronted with an event or events that involve actual or threatened death or serious injury, or a threat to the physical integrity of oneself or others.
A2: The person's response involved intense fear,helplessness, or horror.
"When a persons engages in an activity that is opposite of what they stand for ... can creat in ones mind a psychological wall," Samuels said.
B3: Acting or feeling as if the traumatic event were recurring (includes a sense of reliving the experience, illusions, hallucinations, and dissociative flashback episodes,including those that occur upon awakening or when intoxicated.
Dr. Samuels said Arias has had nightmares and intrusive thoughts about her relationship with Travis Alexander.
C3: Inability to recall an important aspect of the trauma
C6: Restricted range of affect (e.g., unable to have loving feelings)
"A persons emotional range becomes very restricted," Samuels said.
D3: Difficulty concentrating
D4: Hyper-vigilance
More on PTSD Criteria: http://www.ptsd.va.gov/professional/pages/dsm-iv-tr-ptsd.asp
03/14/2013 6:26 PM EDT
PPSD
The doctor is explaining the criteria for determining PTSD.
The Huffington Post is live blogging Thursday's testimony. Check back here for updates.
RELATED ON HUFFPOST:
PHOTO GALLERIES
Jodi Arias Timeline