An expected state takeover has been the hottest of hot button issues in Detroit, and Gov. Rick Snyder's Thursday announcement of a state takeover and the appointment of Kevyn Orr to the position of emergency financial manager (EFM) is likely to bring even more heat to the situation.
Many residents of the majority African-American city feel the appointment of an EFM is a form of political disenfranchisement. In Detroit, some are now engaging in political protest and civil disobedience in an effort to make their voices heard.
During Snyder's Thursday press conference at the Cadillac Place building in Detroit's New Center district, a crowd of picketers from Good Jobs Now, the National Action Network and other groups made clear their opposition to the EFM appointment.
Others have gone further than that. A series of traffic jam protests began last week with a convoy of vehicles, some with signs alluding to cities with state receivership, tying up motorists on I-75 southbound in Detroit.
Michigan State police told The Detroit Free Press that this week drivers have slowed down traffic in four related incidents that occurred on the I-94 and Lodge freeways.
Activist Stephen Boyle told the Huffington Post in a prior interview that the traffic protesters are upset that state officials have ignored strong public opposition to state takeovers like the decision of Michigan voters to repeal the emergency manager law Public Act 4 last November.
"We basically decided, if [the state was] not going to listen to the public, the public was going to slow down traffic," Boyle said. "If we slow down traffic, maybe people will stop and listen for a moment, as to what's going on. This isn't business as usual."
He believes the state takeover of Detroit violates the U.S. Constitution and fears it will lead to the taking of city assets by the state.
Although the traffic protests have been disruptive in themselves, it is possible that anti-state takeover actions may soon intensify in the city. According to TV station WDIV, Rev. Charles Williams of the National Action Network has said thousands of demonstrators are planning to make a human chain around city hall to stop the EFM from doing his job.
Detroit City Councilman Kwame Kenyatta told WJBK-TV he believes the furor over the state's actions is even spreading beyond the borders of the city.
"The world is focusing on Detroit. I've talked to elected officials all over this country, and they're prepared for a national mobilization in Detroit," he said.
When asked if he was ready for protests at Thursday's press conference, the new EFM, Kevyn Orr indicated he was prepared. "I am a strong believer in freedom of expression. I'm not concerned," he said.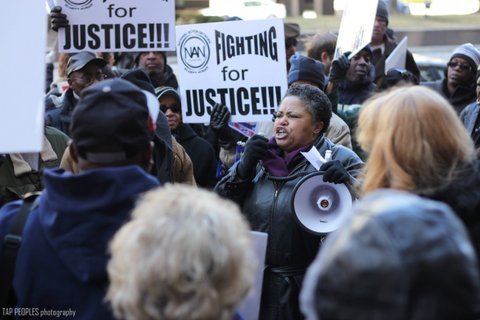 Protesters picketed at Gov. Snyder's press conference to announce the state's takeover of Detroit on March 14 at Cadillac Place in Detroit. (Courtesy Tap Peoples)
Where Do Michigan Pols Stand On An Emergency Manager for Detroit?
Gov. Snyder had campaigned aggressively for Michigan voters to keep PA 4, the emergency manager law. After it was repealed, a similar law was passed through (along with right-to-work and other legislation) in December. In a Nov 2012 interview with The Huffington Post, Gov. Rick Snyder argued against cities in Michigan like Detroit filing for bankruptcy. "Theoretically, if you were able to do Chapter 9 in an efficient fashion, in a structured fashion, where you had everything lined up, you could actually address some of those issues, probably in a more total approach. But the track record, so far, has been pretty dismal. And the associating stigma of what it does, trying to get people to go there in the interim, is even worse."

Dillon headed the six-member financial review team which declared the city in a state of emergency. At a press conference to announce the team's findings, Dillon said, "We believe there's a financial emergency in the city and that there's no plan in place to correct the situation." "We gave the city every chance to avoid the outcome we're recommending to the governor today."

An hour after a state-appointed financial review team unanimously declared that the city of Detroit was in a state of financial emergency, Mayor Dave Bing issued a statement that began with an admission that, yes, the city's finances are in a poor state. "Certainly I am not surprised by the findings of the State's financial review team. My Administration has been saying for the past four years that the City is under financial stress. If the Governor decides to appoint an Emergency Financial Manager, he or she, like my Administration, is going to need resources -- particularly in the form of cash and additional staff."

Young issued this statement following the state review team's findings. "This is going to be a usurping of our democracy. I feel this was a set-up from the word go. If the State listened to reform measures suggested by citizens in the City of Detroit, we would not be in this situation. How can the State fix something they are culpable for? I am as outraged as I am heartbroken about this systematic dismantling and take-over of our City. The people will not let this stand, nor will I."

In 2011, Pugh said that city officials had the power to fix the city's finances. ""Talking about an emergency manager is a waste of breath," Pugh told MLive. "We don't need it. We're working on a plan."

In an editorial written in Sept. 2012 for MLive.com, Sen. Bert Johnson urged Michiganders to vote "no" on the referendum over PA 4, the emergency manager law. "The presence of an EM eliminates, for the duration of the appointment, the rights of voters to elect local officials and displaces them at the time of the appointment. Governments occupied by an EM are inevitably subject to new costs and expenses, forced upon them by the state, without access to new revenue. Simply put, EMs are undemocratic individuals who can singlehandedly craft new laws and operate as an unfunded mandate on local government. PA 4 is unconstitutional and a slap in the face to our Founding Fathers."

At a Detroit Economic Club panel held during the 2013 NAIAS that included southeast Michigan's four most prominent political leaders, L Brooks Patterson told the crowd that an EM in Detroit was needed to start "kicking ass and taking names." He also said that an EM was preferable to the city going through bankruptcy. "You don't want to go through bankruptcy," Patterson said, according to MLive. "You're going to get some judge in Atlanta or somewhere who knows nothing about the region calling the shots."

In a Jan. 2012 letter authored by Watson, who has vigorously opposed the appointment of an EM, she offered many suggestions for lowering Detroit's debt. They included a bailout, renegotiating debt service payments and demanding that banks be held legally and fiscally responsible for issuing subprime mortgages that contributed to foreclosures in the city. "Public Act 4 joins the infamous litany of racist, repressive, right-wing, undemocratic policies that challenge the very framework of the Constitution of the United States," she wrote.

Napoleon has formed an exploratory committee in regards to running for mayor of Detroit in 2013, but has not formally declared his candidacy. He issued a statement following the review team's findings, which included this text. "The worst kept secret in Detroit has been that the financial review team would likely come back with a report that recommends that an emergency financial manager be appointed here in Detroit. "I firmly believe that each and every community has a right to elect local leadership to address that community's problem and I campaigned to repeal Public Act 4 with that belief," he said. "That said, it is incumbent upon the local officials to recognize that there is a problem; how dire that problem is; and to make the tough decisions to address them. We have not done that here in Detroit, which is why we are having this conversation today."

Brown issued a written statement following the review team's findings. In part, he said the pace of change in Detroit has been too slow. "The political will has often not been there to make the necessary and bold fiscal reforms.. Without a doubt, we need the support and accountability that a State of Michigan partnership offers. We cannot address our legacy obligations alone. And, as Detroit goes, so goes Michigan."