On this day 25 years ago, the New Wave phenomenon known as the Talking Heads released their last studio album, "Naked." The record came out in 1988, nearly two years before the avant-garde quartet, led by the enigmatic David Byrne, opted to part ways for good and break the hearts of devoted art punks everywhere.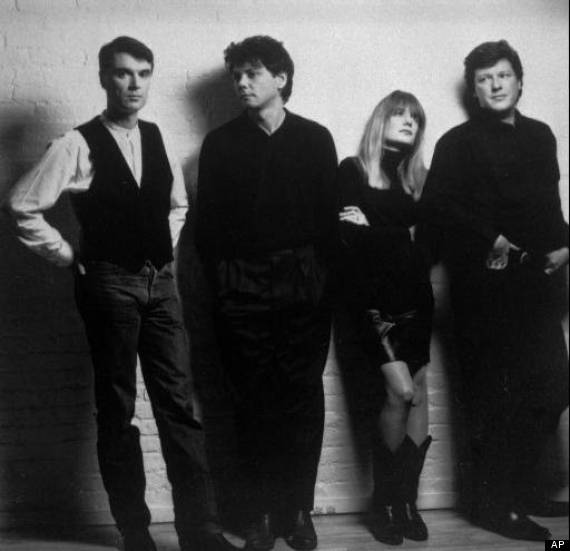 Filled with world beat-inspired tunes like "(Nothing But) Flowers" and "Sax and Violins," the album enjoyed -- like many of T. Heads' past records -- considerably positive reviews, delighting the likes of Rolling Stone writer Anthony Decurtis, who characterized the work as "stylistically bold and intellectually provocative...a dizzying and disturbing piece of work." He added:
"With humor and good-hearted-ness, hope and fear, Talking Heads contemplate a world on the eve of destruction on this important record –- and leave wide open the question of what the dawn will bring."
On the 25th anniversary of "Naked" we've compiled a slideshow of 10 things you didn't know about the band. Scroll through the slides below and let us know how you are celebrating this Talking Heads' anniversary in the comments section.

Loading Slideshow
The Three Primary Bandmates Are RISD Alumni

David Byrne, Chris Frantz and Tina Weymouth all attended the Rhode Island School of Design, where they played in a band called "The Artistics."

Their First Gig As The Talking Heads Was With The Ramones

They played their first gig as "Talking Heads" at CBGB on June 20, 1975... opening for The Ramones. Not too shabby for your debut performance.

Their Band Name Was Inspired By TV Guide

Tina Weymouth described the decision: "<a href="http://ultimateclassicrock.com/talking-heads-77-turns-35/" target="_blank">A friend had found the name in the TV Guide, which explained the term used by TV studios to describe a head-and-shoulder shot of a person talking as 'all content, no action.' It fit</a>."

Brian Eno Named A Song After Talking Heads

The 1977 song "King's Lead Hat" is an anagram of the band's name. Go ahead, rearrange those letters!

The Band Was Inducted Into The Rock And Roll Hall Of Fame

They received the honor in March 2002, where they briefly reunited to play "Life During Wartime," "Psycho Killer" and "Burning Down the House."

Tina Weymouth And Chris Frantz Formed A Hip-Hop Inspired Band

The band was named after a Bahamas dancehall where they first rehearsed in 1980. Their best known single, "<a href="http://www.youtube.com/watch?v=-9d9FA3fCf4" target="_blank">Genius of Love</a>," has been sampled and redone by a number of artists including Mariah Carey, Grandmaster Flash and Redman.

Radiohead Took Their Name From A Talking Heads Song

Thom Yorke's super group took their name from the Talking Heads song "Radio Head" off the 1986 album "True Stories."

Everyone But David Byrne Did A One-Off Album Under The Name, 'The Heads'

The name of the album? "No Talking, Just Head." The album featured a number of collaborators including Debbie Harry and Gordon Gano of the Violent Femmes. Image:<a href="http://www.amazon.com/No-Talking-Just-Head-Heads/dp/B000002P38" target="_blank"> Amazon</a>

David Byrne Once Interviewed Himself... And It Was Amazing

Yes, this happened.

A Real Talking Heads Reunion Is Probably Unlikely

Yes, it's sad, but according to David Byrne: "<a href="http://www.theage.com.au/news/Music/Byrning-down-the-house/2005/02/04/1107476787488.html" target="_blank">We did have a lot of bad blood go down. That's one reason, and another is that musically we're just miles apart.</a>"
Related on HuffPost: