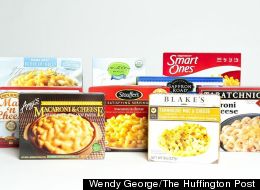 We know we say this as a disclaimer to many of our taste tests, but despite our affinity for cooking and good intentions, sometimes we just need dinner in 5 minutes, and we don't have the energy to make it. That's when we thank the food gods that someone invented microwaveable macaroni and cheese. If there's one thing that'll help you de-stress on a rough day, it's comfort food. And if there's a second thing, it's the feeling that someone (ahem, your microwave) made a lovely dinner for you.
So when times are tough and you must turn to the frozen foods aisle, you might as well turn to the best. That's what we're here for. We rounded up 10 popular brands of frozen mac and cheese and conducted a double-blind taste test, judging for qualities such as firmness of pasta, authenticity of cheese flavor, and consistency. (And if you're health conscious, we included nutrition information for you, too.) Of course, none of these can compare to homemade mac and cheese, but a couple of these come in a close second.
[NOTE: Be careful to check serving sizes on each package. Some of these containers are pretty small but contain two servings, while others are meant for one. It can be misleading to make assumptions.]
Check out the slideshow below to see the results. What's your favorite?
As always, this taste test was in no way influenced or sponsored by the brands included.
Frozen Mac and Cheese Taste Test, 2013
360 calories, 15 g fat, 590 mg sodium per serving Comments: "This tastes like the real thing you'd get at a restaurant. So cheesy, and the pasta isn't overcooked." "Noodles stuck together inconsistently, but the bites were satisfying." "White cheese! Pretty tasty." "Love this. Tastes 'real.'" "Very mild." "Tastes like real cheese. So good."

270 calories, 6 g fat, 540 mg sodium Comments: "This is pretty creamy and 'real' tasting." "Creamy and more natural tasting than others." "A basic cheese, but a good one. Very saucy and delicious." "Not bad? Not memorable either."

400 calories, 16g fat, 640 mg sodium Comments: "It tastes like Velveeta, if you like that sort of thing." "Almost a homemade flavor." "Now there's some sticky cheesiness I know and love." "Gloppy, salty, horrible." "Classic. Kids would love this." "Not terrible."

300 calories, 15 g fat, 830 mg sodium Comments: "Really cheesy but artificial tasting, just what you'd expect of frozen mac and cheese." "Rich and creamy with a somewhat neon-orange color that's a little off-putting." "The cheese is fake. Sharp and chalky." "This just tastes like flour." "Delicious full-cheese flavor. Rich and luscious." "I kind of like the powdered cheese taste, but it's too mushy."

250 calories, 9 g fat, 800 mg sodium per serving Comments: "Is this soup? There's so much liquid in it." "Tastes kind of like Kraft Easy Mac, which isn't necessarily bad." "Sharp, TV dinner taste." "No no no no no no no." "Extremely creamy, but with an artificial, almost rubbery flavor. Velveeta?" "Why so soupy? If I wanted mac and cheese soup this would be great, but I don't."

300 calories, 6 g fat, 570 mg sodium Comments: "SO bland." "Not enough cheese and the macaroni is slimy." "Very bland, the macaroni is more prevalent than the cheese." Pasta is nicely al dente, but zero flavor." "Bland. You barely notice the cheese." "Nice al dente noodles, but lacking in cheese flavor."

290 calories, 13 g fat, 290 mg sodium Comments: "This is WAY too garlicky." "Not enough cheese taste and a synthetic garlic taste." "Garlicky, not very cheesy. But I like the pepper and breadcrumbs." "WHOA. The mushroom flavor in this is very odd." "Very offensive. What's that taste? Cream of mushroom soup?" "Garlicky in a way I don't hate. But it doesn't taste like mac and cheese."

260 calories, 13 g fat, 260 mg sodium per serving Comments: "Bland and dry." "Very artificial tasting with incredibly wet noodles." "Not only does it not taste like cheese, it's horrible! Is this vegan?" "Hmm. Not bad, not great. It's got an herb I can't place." "Sharp yet balanced flavor, slight spiciness." "What is this nastiness?"

370 calories, 18 g fat, 480 mg sodium Comments: "Great for breadcrumb lovers, but totally bland." "Tastes like water." "Absolutely no cheese flavor. It's like putting only oil on your salad. Gross." "Breadcrumbs are a nice touch, but too bad it tastes like paste." "Tastes like mushy air." "Super bland. I like the breadcrumbs though."

230 calories, 7 g fat, 370 mg sodium per serving Comments: "Wrinkly, pungent peas do not make anything taste better." "Peas don't really work in this." "It's way too dry." "Look, peas are a nice touch, but I can do that myself." "The peas taste like dirt, and the bright orange color is horrible." "All I taste is the peas." "Terrible. The peas made things worse."