A Brooklyn man wants to provide guilty New Yorkers with a road to redemption. The method? An anonymous, judgement-free hotline that will accept all their apologies.
"I think forgiveness is a very powerful thing -- and not everyone has an outlet for that," the organizer of the hotline, who wishes to remain anonymous, said in an interview with the New York Post. "Some people can't talk to family, don't have religion or maybe they don't even know how to forgive themselves."
Story continues after photo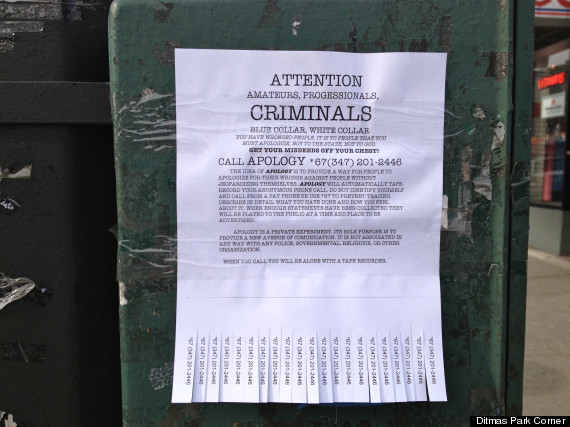 According to Wired, the idea for the confession hotline originally came to Bridge as he struggled with his own feelings of guilt. The artist would shoplift art supplies and afterwards began to feel ashamed. He hoped for a way to repent and figured he wasn't alone in having crimes to confess.
The original "Apology Line" eventually received enough confessions to begin publishing a magazine called "Apology." The hotline even became the premise of a 1986 film by the same name.
The flyer for the second version of the Apology Line is largely similar to the original, except that the phone number advertised begins with *67 in order to keep callers' information private.
"I think it's important that people can use the service without repercussions," the 37-year-old organizer told the New York Post. The flyers state that the Apology Line has no association with police, the government, or any religion.
Once the new Apology Line has received enough confessions, the recordings will be played for the general public - though the organizer is not yet sure how to structure the event. The following are a few examples that Mr. Apology has already shared with the New York Post:
Man: "I would like to apologize to my ex-fianceé for leaving the apartment whenever we got into an argument. For staying in the relationship longer than I should have. For threatening to leave the relationship unless she sought professional help. For. . . looking at pornographic material while laying in bed next to her, secretly on my phone. For lying about looking at pornography . . . For not being willing to work on the relationship unless it was on my terms.I also want to apologize to my cousin for leaving her alone in a strange bar while I and a friend went to get stoned."

Woman: "I [slept with] my best friend's boyfriend . . . and she doesn't know."

Woman: "I stole something from the store and told the man f--k you, f--k you, f--k you but he never called the police. And I just wanted to say, 'sorry.' "

Woman: "I'm sorry, Alexis. I shouldn't have left you."
SUBSCRIBE AND FOLLOW
Get top stories and blog posts emailed to me each day. Newsletters may offer personalized content or advertisements.
Learn more