Challah Recipes: How To Make Your Own And What To Do With Leftovers (PHOTOS)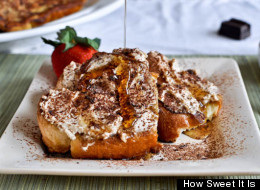 Alright, everybody, we're hurtling toward Passover, so it's time to talk challah. We know, we know, Passover is the holiday where you are forbidden to eat leavened bread -- not exactly prime challah recipe time, right?
Well, if you're either a practicing Jew or someone who has to live with one of us, you probably know about chametz. Chametz refers to any leavened breads, leavening agents and bread-making materials. In the days leading up to Passover (which starts on March 25 this year), we're supposed to rid our homes of any trace of chametz, including the flour tucked away in the cupboard, the packages of yeast, etc. You've still got time, so don't throw it out! Let's make some challah and then use the leftovers for bread puddings, grilled cheeses, French toast and more. You can even make a few challahs to give away to your friends. You'll score brownie points, plus you get all your chametz out.
We are certain that the meaning of Passover is not to have an all-out carbohydrate feast for the week leading up to the holiday, but just tell your grandmother you're trying not to be wasteful -- on account of all those starving children she was always talking about in your youth.
Want to read more from HuffPost Taste? Follow us on Twitter, Facebook, Pinterest and Tumblr.
Get the Classic Challah recipe

Get Jessamyn's Sephardic Challah recipe

Get the No-Knead Nutella and Hazelnut Challah recipe from Steamy Kitchen

Get the Tiramisu French Toast recipe from How Sweet It Is

Get the Challah Bread Pudding recipe

Get the Pillow Talk French Toast recipe

Get the Fried Bologna, Egg On Challah Bread with an American Cheese Rarebit Sauce recipe from Food52 Trashy + Classy = Delicious, guys. Well known fact.

Get the Sweet Pear and Rosemary Honey with Havarti Grilled Cheese recipe from Foodie Crush

Get the Pancetta, Leek and Apple Challah Bread Pudding recipe from A Cozy Kitchen

Get the Cauliflower & Chickpea Stew with Buttered Toast Points recipe

Get the Brioche Stuffing with Wild Mushrooms, Chestnuts and Sweet Sausage recipe