A photographer in Washington D.C. captured a poignant moment between two runners at a recent marathon.
Simon Rakoff was waiting to photograph his wife's winning moment at the Rock 'n' Roll USA Marathon when he witnessed a man helping a fellow runner who was about to collapse across the finish line.
Story continues after photo.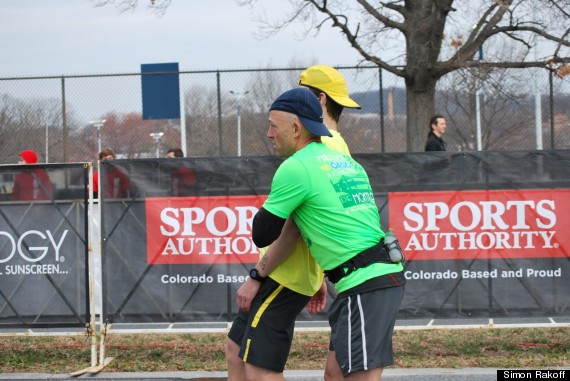 Runner's World posted the photograph on their site yesterday, and it has already received more than 5,600 likes and hundreds of comments commending the "Man in Green." The newswire then followed up with a story from the runners themselves.
Ryan Gregg, a 32-year-old father from Michigan (pictured in yellow), was within 200 meters of the finish line when he began to show signs of losing consciousness. Michael Stefanon of Virginia (in green) was feeling the strain as well when he saw Gregg struggling from a distance.
"The closer I got to him, the worse his condition appeared," Stefanon, 44, told Runner's World. "He began to flail backwards. That's when I knew he needed my help."
"The last few things I remember were stumbling side to side ... and someone grabbing me from behind and stopping me from falling flat on my back," Gregg explained. "They told me something about how I was going to finish and kept pushing me forward."
Stefanon stabilized Gregg and told him, "We are going to do this together." With the help of two race staffers, both the runners covered the remaining 15 yards to the finish line.
Gregg quickly received his finisher's medal and some much-needed medical attention, while Stefanon walked away feeling blessed.
Rakoff, who took the photograph, told The Huffington Post that for him, the image capture more than just a single moment. "The important point of the story is that we dont have to do much. It doesnt take much to help someone else. But that help means a lot, and the ability to lend a hand in a split second is a gift for everyone involved," he said.
Also on HuffPost:
Loading Slideshow
Budweiser King

The other two refs are discussing whether or not to tell him.

Bikini Body

Your morning commute just got a LOT more distracting.

Eagle Carrying Dog

Teaching your dog to "roll over" has never been more entertaining.

Obama Wizard

What does he see? Four more years?

Olympic Glasses

The summer Olympics come around once every four years, but <a href="http://www.huffingtonpost.com/2012/08/02/nbc-olympic-logo-pwns-japanese-gymnast_n_1733543.html">this only happens</a> once in a lifetime.

Building Impalement

Let's hope there's a trampoline under her.

Shooting Hoops

He got that statue for being such a good basketball player

Catbercrombie

He's been cutting way back on the Fancy Feast, and it shows.

Becoming A Geisha

This is one "missed connection" that's going to be pretty hard to track down.

Lightning Strikes

EIther that or she just had a REALLY good idea.

Michelle's New Hat?

Not to mention, if Barack leaned over any further we're pretty sure he'd have an afro.

Walking On Water

Kid gets a diving board, next thing you know he thinks he's Jesus Christ.

Moon Landing

Neil who? Buzz who?

Meow Mix

Looks like someone alrady found his Halloween costume.

Blow Your Horn

This must have been how they got the sun to come out back in the old days.

The Old Yawn-And-Stretch

Come on, cat. That's the oldest trick in the book.

Bubble Eyes

So much cuter than regular glasses.

Heart Cats

"Oh, did you need something? We're just being mind-bogglingly cute."

Who's Calling?

What an eavesdropper.

Catching The Moon

We're assuming Scorsese could get the moon to move if he needed to.

Magic Cat

This cat must have been one of the first <a href="http://www.huffingtonpost.com/2011/08/09/horsemaning-latest-photo-posing-trend_n_922605.html#s325860&title=HuffPost_Comedys_Katla">horsemaning</a> pioneers.

Catch A Plane

It's somehow both serene and terrifying at the same time.

Shadow Bird

Why stand when you can fly?

Plane On A Wire

That is the weirdest looking bird we've ever seen.

Jet-Powered Eagle?

Evolution is getting REALLY interesting these days.