A European sensibility has proved extremely valuable for Union Brewery LLC, owners of Royal Oak's Bastone. So much so that the owners are opening a second Belgian-inspired eatery in their building on Main Street and Fifth Avenue.
About nine years ago, when the brewery's partners first focused on Royal Oak, "there was a big void in Belgian beer," said David Ritchie, Union's operating partner. "It really hadn't been done in that area -- a brewpub making Belgian-style beers. And the restaurant really grew out of the idea of the beer and finding a menu to match."
Bastone, Ritchie said, combined the classic American image of a brewpub with meals that riffed off European-style bistro classics. "It shows the Belgian influences, but brings in French and German, as well."
The new concept is a "Belgian beer abbey" they're calling Monk -- an homage to the monasteries where the nation's celebrated beers were traditionally brewed. Clubby, wood-paneled walls, lantern lights and 10-foot ceilings will mimic classic European monastery design. The chef will turn out burgers, waffle sandwiches and Belgian-style mussels and frites. And, in addition to Bastone's homebrewed beers, Monk will feature an extensive bottled beer list.
"At Monk, we're looking for the person that really loves beer and wants to learn more about beer," Ritchie said.
Monk will occupy the space that housed the Cuban-flavored Cafe Habana for the past nine years, after Union Brewery decided to streamline their business model and close the restaurant. Ritchie said the decision to shutter Cafe Habana in February wasn't due to sales.
"We've just decided to move forward with our plan to strengthen the Belgian theme that Bastone Brewery was built on," Ritchie said.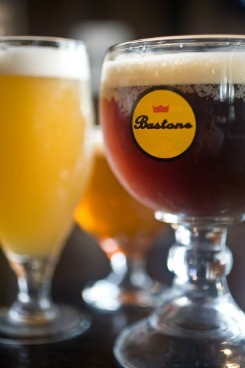 That's not the only major change coming from Union Brewery. A total $300,000 renovation this winter will expand Bastone upstairs into the building at 419 S. Main St., which the brewery also owns. A former office suite upstairs will become private event space and a new lounge area for the sophisticated eatery, where mussels, pomme frites and glasses of beer are served alongside bistro fare like pastas, salads and a wine list. Next door, Vinotecca will debut a new menu.
Downstairs from Bastone, Commune lounge will become Craft, a lounge featuring more craft beers and cocktails, alongside the bar's popular absinthe offerings.
"When we think about a nightclub," Ritchie said, "Every four years, it seems to run its course." The space was originally opened by the partners as Cinq and closed four years ago to reemerge as Commune.
Unlike Monk and Bastone, Ritchie said, most of Commune's changes will be thematic or cosmetic: a new menu of drink offerings, new lighting, wallpapering the space and building a new stage. For the first time, Commune will feature live music on Wednesday and Thursday nights. On Friday and Saturday, Craft will still feature DJs.
"The dance club is really popular and has always worked really well," he said.
By mid-April, the makeover at Fifth and Main will be fully complete, but Ritchie said he has yet another project in the works --Jolly Pumpkin Artisan Ales, which owns breweries in Traverse City, Ann Arbor and Dexter, is hoping to open a proposed fourth brewery, in downtown Royal Oak.
CORRECTION: Commune Lounge is still open while the transition to Craft approaches. An earlier version of this article said it was closed for renovations.
Also on HuffPost:
Loading Slideshow
Monk, Royal Oak

Monk, located on the other side of the wall from sister restaurant Bastone, will also offer Belgian food, with an emphasis on craft beers.

Grace of India, Midtown

Indian food is coming to Midtown! Grace of India <a href="http://www.huffingtonpost.com/2013/03/18/grace-of-india-detroit-la-hookah-town-_n_2827755.html?utm_hp_ref=detroit" target="_blank">opens March 21 on Second Ave.</a> in Detroit's Cass Corridor, just steps away from La Hookah Town, a hookah bar they also opened in Dec. 2012.

Tokyo Sushi, Ferndale

Woodward Heights gets its first sushi bar! <a href="http://www.haveasushiday.com/" target="_blank">Tokyo Sushi</a> opened a sixth location in the former building that occupied Pete's Place in Ferndale.

Schramm's Mead

Schramm's Mead, is a new Ferndale meadery scheduled to open in May 2013 on Nine Mile Rd. in the city's downtown district. Proprietor Ken Schramm is the author of the book, "<a href="http://www.amazon.com/Compleat-Meadmaker-Production-Award-winning-Variations/dp/0937381802" target="_blank">The Compleat Meadmaker</a>."

Beignets

Formerly a food truck dedicated to a special kind of French pastry, <a href="http://www.huffingtonpost.com/2013/03/12/beignets-detroit-hamtramck-restaurant_n_2859431.html?utm_hp_ref=detroit-restaurants" target="_blank">Beignets</a> is setting up shop in Hamtramck. Along with their namesake doughnuts, they'll also offer chicory coffee and regular coffee.

Motor City Wine

Motor City Wine is relocating to the site of the former Express Bar on Michigan Ave. in Detroit's Corktown neighborhood. Initially it will open as wine bar, but the owners eventually plan to add more to their menu.

Brizola

<a href="http://www.greektowncasino.com/brizola.html" target="_blank">Brizola</a> is a new dining establishment opening in Detroit's Greektown Casino. It offers an appetizing menu that includes steak, lamb chops, seafood and an assortment of wines.

Go! Sy Thai Detroit

<a href="http://www.huffingtonpost.com/2013/02/13/go-sy-thai-detroit-restaurant-midtown-auburn_n_2674909.html?utm_hp_ref=detroit-restaurants" target="_blank">Go! Sy Thai</a> is a new Thai restaurant that plans to set up shop in Midtown Detroit's Auburn building this June. It's a satellite of the popular <a href="http://thesythaicafe.com/" target="_blank">Sy Thai Cafe </a>located in Birmingham, Mich. and will offer online ordering and delivery.

La Feria

<a href="https://www.facebook.com/laferiadetroit" target="_blank">La Feria</a> is a Spanish tapas wine bar that won the <a href="http://modeldmedia.com/features/tapaswinnerhd1012.aspx" target="_blank">2012 Hatch Detroit startup contest</a>. It's slated to open in spring of 2013. Diners will be able to order small plates of Spanish cuisine along with beer and wine -- and many of the meals will be made from fresh local ingredients.

Mojave Cantina

Fans of Tex-Mex are no doubt flocking to Clawson to check out the new Mojave Cantina. In addition to staples like burritos and enchiladas, the restaurant also offers Southwestern-style steaks and chicken dishes.

The Black Rock Bar & Grill Novi

The Black Rock Bar & Grill will be the latest eating establishment to hit Novi's Fountainwalk entertainment complex. Patrons will have the opportunity to enjoy steak and seafood prepared on a volcanic rock at their table, according to an Australian method called <a href="http://blackrockbarandgrillofhartland.com/" target="_blank">rock cooking</a>. Black Rock Bar & Grill Novi, the restaurant's second location, will open in <a href="http://novi.patch.com/articles/black-rock-restaurant-to-open-novi-location" target="_blank">April 2013</a>.

Lucky's Prime Time

Lucky's Prime Time, which recently replaced Seros on Walton Blvd. in Rochester Hills, is part of a chain of Michigan restaurants. The menu includes steak, salad, seafood, sandwiches and burgers.

Red Crown

The newly opened <a href="https://www.facebook.com/redcrowngp" target="_blank">Red Crown</a> restaurant, which recently opened its doors in Grosse Pointe Park, bills itself as "American Comfort Food... Redefined." It offers diners <a href="http://redcrowngp.wpengine.com/wp-content/uploads/2013/03/red-crown-supper-menu-3.13.13.pdf" target="_blank"> delicious options</a> like Spice Rubbed Creekstone Beef Brisket, Perch Fish N' Chips and even a Black Bean sandwich for vegetarians.

Detroit Vegan Soul

<a href="https://www.facebook.com/DetroitVeganSoul" target="_blank">Detroit Vegan Soul</a>, scheduled to open in spring 2013, will offer soul food with a vegan twist. They'll be opening up in <a href="http://www.huffingtonpost.com/2013/01/22/detroit-restaurants-2013-new_n_2526303.html" target="_blank">Detroit's West Village</a>, where they recently tested the waters with a pop-up.