The limo was towed around 10 a.m. Jerusalem time. The president -- who arrived in Tel Aviv around noon before being flown by helicopter to Jerusalem -- was not present when the vehicle was being towed.
(Scroll down to see a photo of the limo being towed, courtesy of News 24.)
"We experienced mechanical trouble with one of the cars," said Edwin Donovan, a spokesman for the Secret Service, according to pool reports. "We don't know the cause."
Donovan said the Secret Service "did not have a read on what the specific issue is at this point."
"That's why we bring different multiple vehicles," Mr. Donovan said of the first limo's mechanical difficulties.
This isn't the first time Obama's limo has malfunctioned. In a 2011 trip to Ireland, The Beast suffered a roadside breakdown after getting stuck on a ramp outside of the U.S. embassy in Dublin.
The Beast's most recent difficulty is a reminder that no matter how high-tech or advanced your ride may be (among many features, the president's limo includes its own oxygen supply, night-vision camera and tear gas cannons, according to the New York Daily News), we're all susceptible to basic car troubles.
Below, a photo of the broken-down presidential limo from News 24: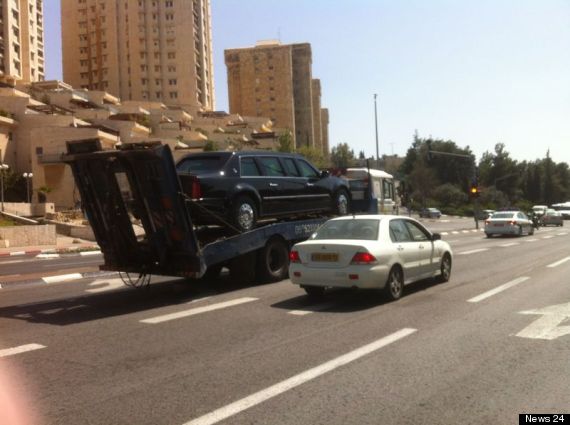 Also on HuffPost:
Obama Visits The Middle East
SUBSCRIBE AND FOLLOW
Get top stories and blog posts emailed to me each day. Newsletters may offer personalized content or advertisements.
Learn more