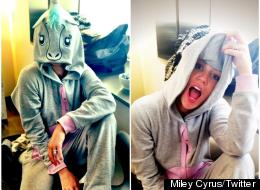 Miley Cyrus decided she was taking a break from Twitter a couple weeks ago -- a break which lasted about 90 minutes.
The 20-year-old pop star has been making headlines recently over reports that she and fiance Liam Hemsworth had broken things off. First there were reports that Hemsworth cheated on Cyrus with January Jones, and soon after the singer was spotted without her wedding ring. Well, Cyrus tweeted a photo of herself in a unicorn onesie -- and lo and behold, there's that engagement ring back on her finger. Perhaps she was just getting a diamond reset at the jewelers after all.
"What was Miley doing in a unicorn onesie?" you might be asking yourself. Uh, "twerking." The "Party In The USA" singer posted a video of herself dancing to J Dash and Flo Rida's "WOP."
You know what Miley, we're not even going to ask.
Could it be that Cyrus was just really bored last night? It's a pretty good theory since she also posted a split screen photo of herself as a child next to Gollum from "The Lord of the Rings," and wrote:
The resemblance Is terrifying. twitter.com/MileyCyrus/sta…

— Miley Ray Cyrus (@MileyCyrus) March 20, 2013
She said it, not us.