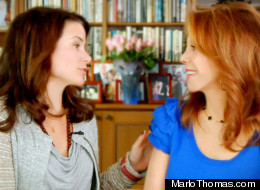 Career expert Nicole Williams joined me this week on Mondays with Marlo to answer all of your questions on women in the workplace. Nicole had such a wide array of knowledge -- we covered everything from dating in the workplace to finding a new career in middle age to how to ask for a raise. Nicole had a fresh perspective on these and so many other career-related topics. If you're a woman in the workplace, you don't want to miss this interview!
Get ahead at work and in life with Nicole's top career tips for women:
Nicole Williams' Career Tips
Technology moves quickly. If you're worried about falling behind in your skills, ask your employer about taking classes to brush up on new programs -- or search for some on the internet. Your employer will be impressed by your initiative, and you'll feel more confident boosting your know-how.

If you're exploring new opportunities, talk to the people you already know. Let them know you're searching -- you never know who has an industry in. Also consider reaching out to companies that you're interested in to set up casual informational interviews. Learn about the company and get to know the people who work there. When an opportunity arises, they'll think of you for the spot.

The time between going on an interview to hearing back can be nerve-wracking. To keep your name on a potential employer's mind, reach out in the meantime. Send them a link to an interesting industry-related article you've read or a sample of a project you're particularly proud of -- it'll show them you're still interested.

Networking can sound intimidating, but it doesn't have to be. It's just another way of getting to know someone -- not asking for a job. If you'll be at an event with an opportunity to meet people in your industry, do your homework -- how is their company doing? Have they been in the news lately? Ask questions and approach them confidently. That opens the door for you to follow up with them at another opportunity.

Women are more reluctant than men to ask for money, but we shouldn't be afraid to ask for the cash we deserve. When approaching the subject, don't attach it to a personal issue -- your boss doesn't care that you need a new car or that your son is going to college. Instead, be able to articulate specifically what you're giving the company. It doesn't matter if you're the front desk attendant or a CEO -- make your case for how you're helping your employer either make money or save money.

While you should still spend time crafting a resume that features all your experience, it's equally as important to have a solid online presence on a website like LinkedIn, where you can include samples of your work and recommendations from colleagues. Chances are high that potential employers will Google you -- you want to ensure there's something professional for them to find.

It's never too late to change careers. If you're ready to make the switch, start by identifying and speaking with people who have the job you want to get a realistic sense of what the day-to-day job is like and what skill set you'll need. Talk and learn from as many people as possible before taking the plunge.

Stand out from other candidates by attaching numbers to your experience. Instead of saying "I increased sales in my department," explain "Sales went up 25% under my supervision." Be specific to wow employers.

Make sure you're wearing clothes that fit you -- not too revealing but not too dowdy, either. Take notice of your appearance, too. Chipped nail polish or messy hair tells your employer that you don't take yourself -- or your job -- seriously. Nicole's favorite rule? Dress for the job you want, not the one you have.

You can say a lot without speaking a word. Convey confidence by having good posture -- shoulders back, sitting or standing straight. Make eye contact when you're speaking and have a firm handshake. It shows you're honest and assured.
Add Marlo On Facebook:
Follow Marlo on Twitter:

Weekly Newsletter

Sign up to receive my email newsletter each week - It will keep you up-to-date on upcoming articles, Mondays with Marlo guests, videos, and more!

Sign up here