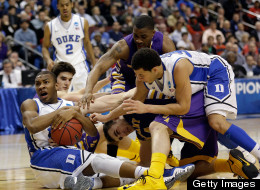 Who are the Albany Great Danes?
On most days, the Great Danes are a team out of the America East Conference. On the second full day of action in the 2013 NCAA Tournament, they are the team playing against Duke. In other words, they are suddenly very popular.
The Blue Devils were upset as a No. 2 seed last year by No. 15 Lehigh in their tourney opener. . Back in the tournament yet again, Duke is again a No. 2 seed. The Albany Great Danes are a No. 15.
"We were shocked that it really happened," Duke sophomore Quinn Cook said earlier this week of last year's loss to Lehigh. "We don't want it to happen again."
Will Coach K and Duke avoid another early upset? Either way, the Marshall Henderson show will begin at 12:40 p.m. EST in Kansas City. Will the defense
Will Friday's slate of games deliver even more surprises than Thursday? Can another low seed duplicate No. 14 Harvard's shocking upset of No. 3 New Mexico? Will we get a buzzer beater?
Scroll down for live updates throughout the second full day of March Madness.
| | |
| --- | --- |
| | @ raphiellej : It's one thing to lose, another to quit. While Howland's likely out, at a certain point people need to ask questions of the guys in jerseys. |