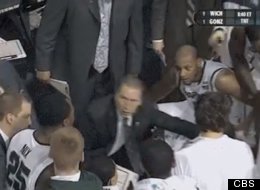 Michigan State wasn't just throwing everything it had at Memphis on Saturday, the Spartans were also battling one another.
Leading by 11 with 12:45 remaining in the game, a pair of Michigan State teammates started arguing with each other... with towels.
As the team huddled after Memphis called a timeout, tempers flared between Derrick Nix and Keith Appling. The two threw towels and appeared to yell at each other while head coach Tom Izzo was drawing up a play. Izzo and the rest of the team calmed the two down and then went right back to the clipboard.
Over the next 12:45, the Spartans outscored the Tigers 27-16 and went on to win by 22 to advance to the Sweet 16.
"It's great, isn't it? It reminds me of (Mateen) Cleaves and them (on the 2000 national championship team)," Izzo said after the game, via Fox Sports Detroit. "It's better when your team is getting a little feisty. Keith didn't want to take anything from Nix, so he told him. That's all good. Trust me, in my program, that's all good. They got into it a little bit and I enjoyed it."
Not surprisingly, the argument caught some attention on Twitter.
@mattmosley

Matt Mosley
I love how Izzo kept drawing that play during the Nix-Appling altercation. Didn't really faze him.
@bobwojnowski

Bob Wojnowski
Nix and Appling threw towels at each other in the MSU huddle. No biggie. Memphis' entire putrid offense is throwing in the towel.
@vgoodwill

Vincent Goodwill
Appling and Nix getting into it...Izzo looking like he really loved it