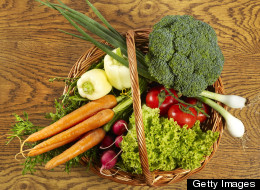 By Deborah Dunham for YouBeauty.com
You already know that a healthy diet is synonymous with healthy skin. But what about vegan diets? Can you chalk up a youthful, glowing complexion to ditching chicken and ice cream? Whether you nix animal products for health reasons, ethical reasons or both, we got the lowdown from our experts on how this affects your pretty face.
So what exactly does meat do to our skin?
For starters, it can be loaded with saturated fat, which increases the risk for cardiovascular disease. Unhealthy arteries means your skin isn't getting the glow-inducing nutrients it needs to stay healthy. One study found red meat consumption in particular is positively associated with increased inflammation in the body, which worms its way into your skin to break down collagen and elastin (the building blocks of a youthful complexion).
More from YouBeauty.com:
The 30-Day Meat-Free Challenge To Help Your Skin
Eat Carrots, Look Prettier
It may even contribute to breakouts, according to one study that concluded acne is linked, in part, to our western diet of excessive animal proteins. Researchers recommended we limit the total leucine -- an amino acid found in meat -- intake predominantly provided by animal protein to decrease acne on our skin.
Ditto for dairy.
One study examined the diets of 47,355 women and found a positive link between milk and acne. That's because the majority of milk we consume is produced by pregnant cows, meaning there are high levels of hormones present. That can be an open invitation to oil secretion, breakouts and acne.
But if you think simply ditching the meat and dairy is the answer to a more flawless complexion, it's not.
"The benefits that you get from removing meat and dairy from your caloric intake all depend on the foods that you choose to replace those calories," explains Kristin Kirkpatrick, R.D., YouBeauty Nutrition Expert. In other words, a vegan who replaces the calories with more fruits and vegetables and other nutrient-dense foods will see a major benefit in her complexion and overall beauty.
That's because fruits and veggies have a higher water content than cooked meats, and eating foods with high water content (like cucumbers, watermelon, cantaloupe) help hydrate our skin, plump out fine lines and bring on a radiant glow.
Same goes for essential nutrients. A well-balanced vegan diet is typically higher in vitamin C, says Kirkpatrick. "Vitamin C is needed for collagen metabolism, which increases the elasticity of the skin, providing a smoother and less-wrinkled complexion." You can get your highest dose in foods like papaya, strawberries, oranges, kale, lemon, cauliflower and garlic.
Related on HuffPost:
Worst Foods For Your Skin
Ever wake up feeling a little puffy around the eyes? Too much salt can cause some of us to retain water, which can lead to swelling, say New York City dermatologist Dr. Neal B. Schultz. Because the skin around the eyes is so thin, he explains, the area swells easily -- and leaves you cursing last night's popcorn when you catch your reflection the next morning. "These effects of salt are definitely age related," he says, and become more common in middle age.

Shrimp, crab, lobster -- and also certain leafy greens like seaweed and spinach -- are naturally high in iodine, and a diet with too much of this element can lead to acne, says Schultz. However, "these breakouts are based on an accumulated amount of iodine over time, so there's no relationship between eating high iodine foods one day and breaking out the next," he says. Instead, he advises that people who are particularly acne-prone consume these foods a couple of times a month rather than a couple of times a week.

Although its effects are probably still pretty small, according to Dr. Bobby Buka, a dermatologist also in practice in New York City, some dairy products may contribute to skin problems. A 2005 study linked higher milk consumption to presence of acne. While the study had certain flaws, including the fact that participants were asked simply to recall how much milk they drank rather than record it in real time, more recent research, including a 2012 study in Italy, found a connection specifically between skim milk and acne. This is likely because of "a higher amount of bioavailable hormones in skim milk, since they cannot be absorbed in surrounding fat," explains Buka, which can then overstimulate the group of glands that produce our skin's natural oily secretions, according to the American Academy of Dermatology. In some people with rosacea, dairy products can also trigger the condition's tell-tale redness, Schultz says.

Starchy picks like white breads, pastas and cakes, and even corn syrup, Buka says, are best avoided for dewy skin (and maybe even for maintaining weight loss). Foods that are considered high glycemic can cause rapid spikes in blood sugar. A small Australian study from 2007 found that eating a low-glycemic diet reduced acne in young men. But Schultz says there will need to be more research before we truly understand the relationship. However, if glycemic index does prove to be related to skin problems, and you find yourself breaking out after eating something like French fries, it may be due to the starchy insides rather than that greasy, golden exterior, according to YouBeauty.com.

If starchy foods that break down quickly into sugar are an issue, it's no surprise that straight sugar can be problematic for the skin in much the same way. High blood sugar can weaken the skin by affecting tissues like collagen, according to Daily Glow, and leave you more vulnerable to lines and wrinkles. Which is why it's likely not anything particular to chocolate, a rumored breakout culprit, that's giving you trouble, but the high sugar content of that sweet treat. If you're worried about breakouts, but dying for a nibble, stick with the dark stuff -- it packs the most health benefits, anyway.

Alcohol is a natural diuretic, which means the more you drink, the more dehydrated you become. It saps the natural moisture from your skin as well, which can make those wrinkles and fine lines seem like bigger deals, according to Woman's Day. It can also trigger rosacea outbreaks, Schultz says.