Arizona Prosecutor Juan Martinez will once again attempt to torpedo Jodi Arias' PTSD defense, as his cross-examination of the accused murderer's psychologist continues today in an Arizona courtroom.
On Thursday, the defense finished its redirect of psychologist Richard Samuels following dozens of juror questions put to the defense expert by Judge Sherry Stephens. Arizona is one of three states that allow jurors to pose questions to witnesses after prosecution and defense lawyers have finished their questioning.
Samuels has testified Arias suffered from acute stress disorder, which developed into post-traumatic stress disorder. Samuels said he came to this conclusion after reviewing evidence in the case, examining Arias, and administering a test to diagnose PTSD.
During cross-examination Thursday, Martinez launched a bare-knuckle attack on Samuels and accused him of changing test results to give Arias a higher score on the test that led to a PTSD diagnosis.
"Isn't it true that ... you have compassion for the defendant ... Isn't it true that you have changed or done things ... because you have sympathy or bias toward the defendant?" Martinez asked Samuels on redirect.
"Absolutely not," Samuels replied.
Arias, 32, is accused of the June 4, 2008 slaying of her ex-boyfriend Travis Alexander, inside his Mesa, Ariz., home. The prosecution contends Arias stabbed 30-year-old Alexander more than two-dozen times, shot him twice in the face and slashed his throat in a jealous rage. Arias told jurors she killed Alexander in self-defense during an argument over a dropped camera that followed his escalating sexual demands.
Arias is charged with first-degree murder and faces the death penalty if convicted.
The trial is set to resume at about 1:00 p.m. Eastern time, when Martinez is expected to continue his cross-examination of Samuels.
Read below for minute-by-minute updates from court Monday:
03/25/2013 7:30 PM EDT
Recess
The judge has called the evening recess. The trial will resume Tuesday, at 1:30 p.m. Eastern time.
03/25/2013 7:29 PM EDT
Sidebar
The attorneys are at a sidebar with the judge.
03/25/2013 7:29 PM EDT
On Her Experience In Court:
LaViolette said she has worked as an expert in several trials, for both the defense and the prosecution.
03/25/2013 7:24 PM EDT
More On LaViolette:
LaViolette is talking about awards she has received and books she has written about domestic violence.
03/25/2013 7:18 PM EDT
On The Lengthy Bio:
well it looks like this expert will be talking about her credentials til july...see you then at #jodiarias trial

— kathy B (@katidid7) March 25, 2013
03/25/2013 7:17 PM EDT
More On Her Bio:
LaViolette said she provides therapy to couples and abuse victims. She said she also helps with custody issues and domestic violence legislation.
03/25/2013 7:15 PM EDT
LaViolette On The Stand: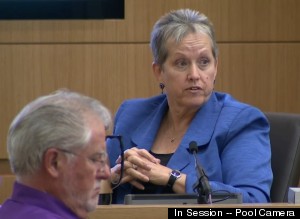 03/25/2013 7:13 PM EDT
More On LaViolette:
03/25/2013 7:12 PM EDT
LaViolette's Bio
LaViolette is talking about her education and professional experience as a psychologist. LaViolette said she worked in a battered women's shelter and ran a 24-hour crisis hotline.
03/25/2013 7:10 PM EDT
Alyce LaViolette
The defense has called domestic violence expert Alyce LaViolette to the stand.
The Huffington Post is live blogging Monday's testimony. Check back here for updates.
RELATED ON HUFFPOST:
PHOTO GALLERIES
Jodi Arias Timeline