Disney stirred up controversy last August when it partnered with Barneys to give Minnie Mouse and other classic Disney characters fashionable makeovers. The animated characters were drawn with special outfits designed by the likes of Dolce & Gabbana and Balmain. They were also drawn looking very, very skinny.
After a brief media frenzy and Change.Org petition later, the brouhaha died down. But this past weekend, Disney decided to give a Minnie Mouse makeover one more try. Minnie walked in a runway show at Disneyland Paris on Saturday wearing a dress designed by Lanvin's Alber Elbaz.
The new outfit consists of a long-sleeve navy cocktail dress with padded shoulders, plus a pink sequined hat -- a sophisticated upgrade from Minnie's red polka dot dress. It's also not the same ruffly pink Lanvin frock, pink tights and stiletto sandals that Minnie wore in the controversial Barneys ads. This outfit is less "fashion," more... comfort. Or as one spectator at the catwalk show told AP, "It looks a bit mother of the bride."
Hey, we think Minnie looks cute no matter what. Check out the mouse's new ensemble below. Do you prefer it to Minnie's traditional red dress?
Minnie's new dress: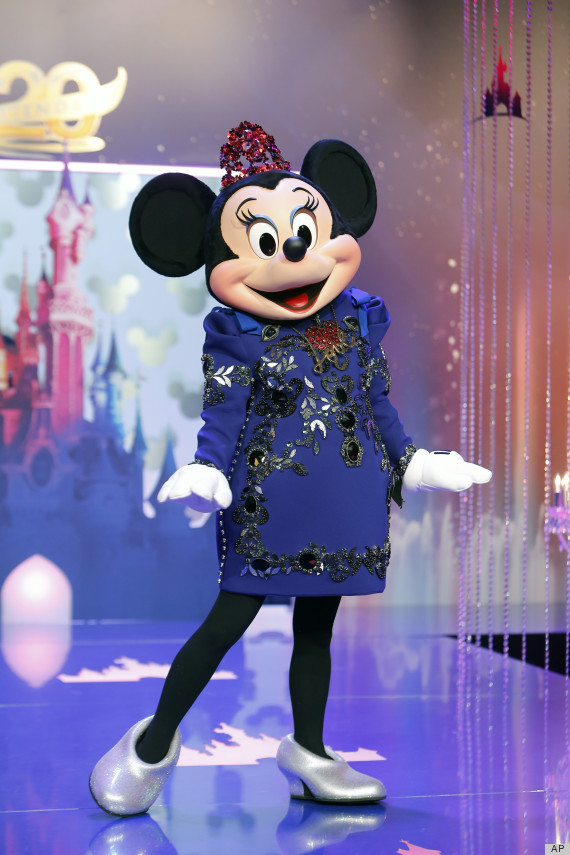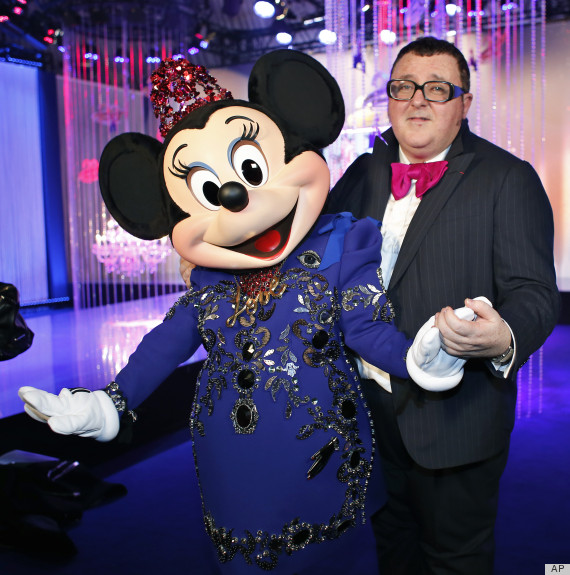 Minnie's original makeover: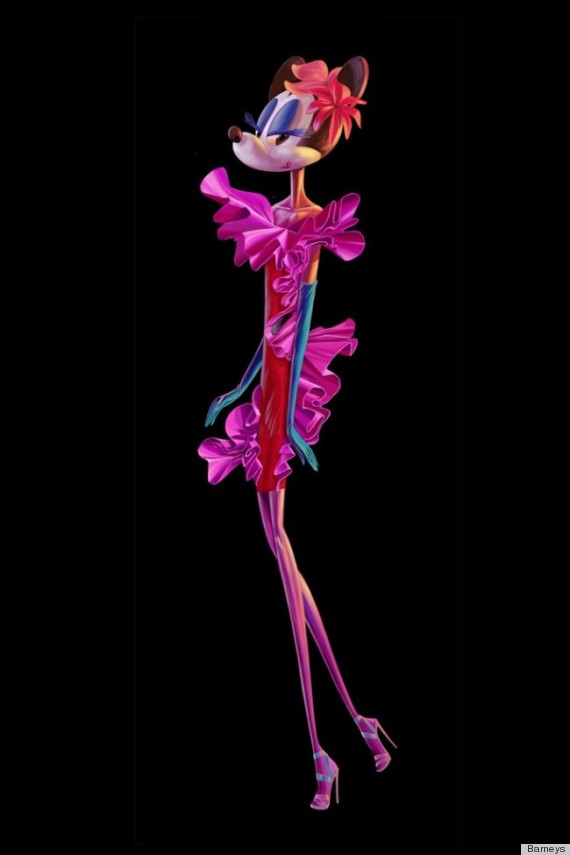 Disney's Barneys ads were just one of many fashion-related controversies:

Loading Slideshow
"Make Love Not War," Vogue Italia, September 2007

<a href="http://iconolo.gy/archive/make-love-not-war/65">Steven Meisel's spread</a> was accused of glamorizing combat with couture.

"Storm Troupers," American Vogue, February 2013

Annie Leibovitz's shoot intended to pay tribute to the heroes of Superstorm Sandy, <a href="http://www.huffingtonpost.com/2013/01/17/vogue-hurricane-sandy-photos-spread_n_2497007.html">but was met with backlash</a> for downplaying the appearance of the service workers whom the feature purported to honor.

Lindsay Lohan In "The Last Sitting," New York Magazine, Spring 2008

<a href="http://nymag.com/fashion/08/spring/lindsay-as-marilyn/">NYMag recreated Marilyn Monroe's famous last photo shoot</a> with a thoroughly modern stand-in. Five years later, Lohan's still earning Marilyn comparisons.

Tim Tebow As "Sexy Jesus," GQ, September 2011

Tim Tebow, sexy? Hardly a stretch. But <a href="http://www.huffingtonpost.com/2012/08/15/tim-tebows-sexy-jesus-pose-gq-photo_n_1778500.html">Tim Tebow as Sexy Jesus</a> certainly ruffled some feathers.

Azealia Banks, Dazed & Confused, September 2012

This cover was <a href="http://www.huffingtonpost.com/2012/08/15/azealia-banks-banned-magazine-cover-dazed-confused-condom_n_1778291.html">banned in seven countries before it was even released</a>. Guess why.

Lindsay Lohan For Tyler Shields, August 2011

Watch your back, <a href="http://www.tylershields.com/images/lindsay-lohan/lindsay-lohan-knife.jpg">Tyler Shields</a>. This controversy-courting photographer obtained a pretty unstable subject for this photo. Talk about a sticky situation.

"Water & Oil," Vogue Italia, August 2010

We're starting to think it'd be harder for Steven Meisel to <em>not</em> offend his global audience. <a href="http://www.tomandlorenzo.com/2010/08/vogue-italia-water-oil-2.html">His ill-advised tribute to the 2010 BP oil spill</a> tarnished more than just the garments involved.

"Victim Of Beauty," 12 Magazine, June 2012

This editorial <a href="http://12mag.net/en/beauty/victim-beauty/">intended to juxtapose special event makeup with special effects makeup</a>. 12 Mag's editor-in-chief <a href="http://www.nydailynews.com/life-style/fashion/magazine-explains-controversial-fashion-shoot-photos-aren-intended-glamorize-violence-article-1.1098313">told the New York Post</a> that any comparisons to domestic violence were not intentional, but inferred by the reader.

Heather Morris For Tyler Shields, September 2011

<em>Glee</em> star <a href="http://www.huffingtonpost.com/2011/09/02/heather-morris-photo-shoot_n_946721.html">Heather Morris appeared battered beyond belief</a> in Tyler Shields' photo story. These graphic images conjured up comparisons to victims of domestic violence, and Shields chose to auction off this photo, pledging the proceeds to "a top domestic violence charity."

"Extra Strength," Vogue Italia, December 2011

Bearing the tagline "Body by Karlie," <a href="http://www.huffingtonpost.com/2011/12/01/karlie-kloss-nude_n_1122881.html">Steven Meisel's take on the statueseque model</a> put Kloss' protruding pelvis on a pedestal. This image was later removed from <a href="http://www.vogue.it/magazine/cover-story/2011/12/extra-strength">the Web version of Meisel's shoot</a> for the fear it induced.

Vogue Paris, August 2011

We're well aware that modeling is an industry that favors the young. <a href="Thylane http://www.huffingtonpost.com/2011/08/04/thylane-blondeau-10-year-old-model_n_918066.html">Thylane Loubry Blondeau</a>, the <em>very</em> fresh face behind this racy editorial, was 10 at the time of her close-up.
Want more? Be sure to check out HuffPost Style on Twitter, Facebook, Tumblr, Pinterest and Instagram at @HuffPostStyle.
--
Do you have a style story idea or tips? Email us at stylesubmissions@huffingtonpost.com. (PR pitches sent to this address will be ignored.)