Parents -- specifically parents with blogs -- are in a tizzy over Victoria's Secret's alleged new "tween line" aimed at young girls.
News starting circulating over the past few weeks that the lingerie mega-store was expanding its offerings with a line called Bright Young Things, a collection that would target the tween demographic supposedly worth "$335 billion of spending power," according to retail analyst Hitha Prabhakar.
The news sparked inevitable uproar from parents like Evan Dolive, who penned an open letter to Victoria's Secret on his personal blog. "I don't want my daughter to ever think that to be popular or even attractive she has to have emblazon words on her bottom," he wrote. Another blogger echoed the senimtent, writing that Bright Young Things "furthers a trend of sexualizing girls younger and younger." The Victoria's Secret Facebook page started overflowing with angry comments.
But is Victoria's Secret really coming for your 12-year-old? Click over to VictoriasSecret.com and you'll find no sign of a separate Bright Young Things collection. It appears that Bright Young Things is a new Spring Break-themed tagline for PINK, Victoria's Secret's more youthful counterpart.
The lingerie brand founded PINK, its younger spin-off, in 2002 with the explicit aim of targeting 15-to-22 year olds. The brightly colored sweats, bras, tank tops and undies have proven immensely popular among the high school set, but often for even younger girls in middle school too.
But there is no plan to target middle schoolers explicitly, as Bright Young Things is not a new collection as reported. A PINK spokesperson told us:
In response to questions we recently received, Victoria's Secret PINK is a brand for college-aged women. Despite recent rumors, we have no plans to introduce a collection for younger women. "Bright Young Things" was a slogan used in conjunction with the college spring break tradition.
Victoria's Secret has not, then, adopted a new policy to target younger girls than it already does. But that doesn't change the fact that PINK has and continues to target teens, whose preferences tend to rub off on tweens. It also doesn't change the fact that PINK's offerings for spring 2013 include underwear with the word "Wild" across the butt and a beach towel with the phrase "Kiss Me."
And it is those kind of saucy messages that have parents' panties in a twist, so to speak. And it's not nearly the first time Victoria's Secret has angered its customers with some controversial products (see here, here and here).
Do you think PINK needs to change their approach and tone down the cheeky teen messaging, or are parents overreacting?
See PINK's new Spring Break-themed video: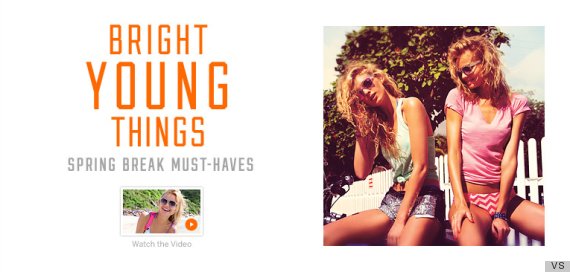 Fashion brands just can't stay out of the headlines:
St. Patrick's Day-themed SB Dunk Low "Black and Tan" sneakers by Nike incite outrage from Irish community.

As part of the brand's "Far East" collection, the "Sexy Little Geisha" outfit came complete with a removable obi belt.

"Eat Less" t-shirts aren't well received by, well, most people.

"Truly Madly Deeply Kiss Me" t-shirt offends Irish groups.

Asian caricature t-shirts caused outrage in California.

Some Irish groups aren't pleased with this "Irish Yoga" trucker hat.

Retailer gets in trouble for its "Jewish Star" t-shirt.

"Wink Wink" and "Eye Candy" thongs for 10-year olds isn't a hit with all parents.

"New Mexico, Cleaner than Regular Mexico" t-shirts didn't go over well. (AP photo)

Ditto this "Truly Madly Deeply Irish Drunk" scoop tank.

"Color for the hair down there" is not received well.

"How to catch an illegal immigrant" shirt

"Cuntier" hats spoof Cartier logo.

Jeremy Scott designed these "handcuffs" sneakers for Adidas. However, after many complained that the cuffs looked more like shackles, Adidas canceled its plans to sell the shoes.

Urban Outfitters thought it was a good idea to sell this shirt to its young demographic (with a lot of them being younger than 21).

Skin-lightening wash targets consumers with dark colored privates.
Want more? Be sure to check out HuffPost Style on Twitter, Facebook, Tumblr, Pinterest and Instagram at @HuffPostStyle.
--
Do you have a style story idea or tips? Email us at stylesubmissions@huffingtonpost.com. (PR pitches sent to this address will be ignored.)