Lindsay Lohan, Charlie Sheen 'Anger Management' Bedroom Scene Sets Tongues Wagging (VIDEO)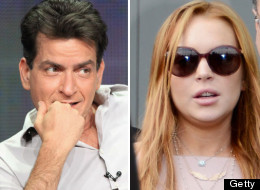 Notoriously tardy Lindsay Lohan shocked the tabloid world on Monday after she showed up early to the set of "Anger Management," Charlie Sheen's comedy show. "Lindsay Lohan SHOCKER on…set," TMZ declared of LiLo's punctual arrival.
Now, tongues are wagging once again as more details of Lohan's guest appearance on the FX show are leaked.
According to E! Online, Sheen and Lohan -- who is playing herself in the show -- will be sharing much more than just the small screen in the cameo episode. They're reportedly going to be sharing a bed too.
"Lindsay's first scene featured her in bed with Charlie Sheen," TMZ writes. "[A]ccording to the script they had just had sex."
The New York Daily News reports that Lohan had a particularly excellent day on the "Anger Management" set. "She looked surprisingly good and was upbeat and professional," a source allegedly told the newspaper.
Lohan, who was recently sentenced to 90 days in "locked rehab" for reckless driving, took to Twitter on Monday to share her enthusiasm after the day's filming:
I just had such a wonderful day on set of #angermanagement with @charliesheen & @lightaaron @savethesociety @jazejazz7 and the entire crew!

— Lindsay Lohan (@lindsaylohan) March 26, 2013
As E! Online points out, this isn't the first time that Lohan and Sheen have been bedfellows on screen. In "Scary Movie 5," which is slated to hit theaters next month, the two stars, who have cameo performances in the horror movie parody, will also be sharing a bed.
Lohan's "Anger Management" episode is set to air in April, according to Entertainment Weekly.