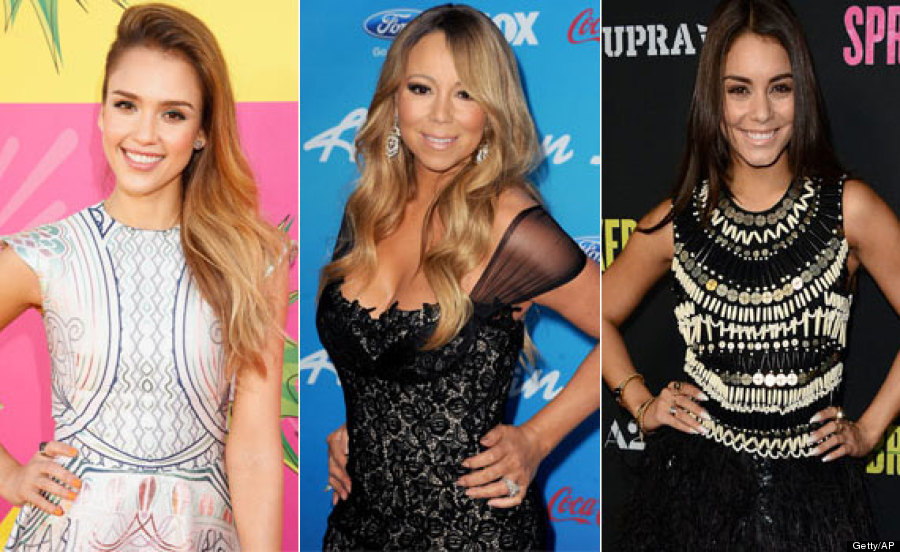 Latinos are very proud of their culture and moreover of the stars that represent them in front of the world. However, sometimes in an effort to celebrate and support their own, stars with ambiguous heritage get labeled as Latino.
So, what does it means to be a Latino? How much Latin blood you need to have running through your veins in order to be considered part of the community? Who decides who is Hispanic and who is not?
Instead of answering these questions, we preferred to ask you what your take is on this. Are these stars really Latino in your eyes? Let us know!
The singer explained her heritage in detail during an interview with George Lopez. "Here is what I am. My mother is Irish, she is like the queen of Ireland, she loves Ireland. My father is black, he grew up in Harlem as an African American man. His father's mother, my great grandmother is Venezuelan," Carey said. "We got a little piece for us. Latinos have a little of Mariah Carey... Even if you've just sang 'La Bamba' we would still claim you," said Lopez. Do you agree?

It has never been very clear what is the connection between Demi Lovato and her Latino side, although media have described her as Irish, Italian and Mexican. "I feel so much love and comfort when I'm with [the Latino] side of my family. It makes me proud of my culture and my ethnicity," said Demi during and interview with Latina magazine. Does this mean she is in fact Hispanic? It is up to you to decide!

The A-list actress is of Danish and French descent on her mother's side and Mexican-American on her father's side. "I don't speak Spanish. I was born and raised in the States. My father was born and raised in the States. And my grandparents were born and raised in the States. So I'm American... I have Latin roots in America and I would love to play a Latin character. I've only been offered a few, and they weren't the right movies," The Independent reported the actress said in 2008. What does this mean to you?

You might ask yourself, with that last name how come Nicole Richie can be considered Latina? Nicole's biological parents were Mexicans Peter Michael and Karen Escovedo. At age three she was passed on to Lionel Richie and his wife who later officially adopted her. "Yeah--she's Latin, because my brother's Mexican and my dad is Mexican and she's Mexican. It's in her blood," her aunt Sheila E. to Latina Magazine. What do you think?

The Black Eyed Peas star explains her heritage as Irish, Scottish and Mexican. "My heritage is a complete mixture that includes Irish, Scottish and Mexican strains, and I don't feel tied to any one culture," she said to Latina magazine. "Yes, I have Mexican in my ancestry. My Dad's grandmother was born in Guanajuato. I'm very proud of it; that's probably where I get my fire! I'm mostly Scottish-Irish, though." Can the term 'Latina' be part of this equation?

Vanessa Hudgens's father is Irish and Native American, while her mother is Philippine with some Spanish descent. When asked by Chelsea Handler if she was Latina, the actress answered, "I mean, kind of a little bit." What is your take on it?

Lea is part Italian-American and part Spanish-Sephardic Jewish... Does this mean she is also part Latina?

Altought Nicole 'Snooki' Polizzi considers and portrays herself as a guidette, she was born Chilean, and later adopted by her legal Italian American parents.

A big controversy sparked after it was revealed that the actor who will be playing Tony Mendez character in the movie "Argo" was not going to be Latino. Maybe anybody asked Mendez himself earlier how Hispanic he felt . "I don't think of myself as a Hispanic. I think of myself as a person who grew up in the desert. If I had been in a different family circumstance, I might have felt that way. But, mostly, my family was at odds with each other in a playful way, they weren't talking about heritage in that regard," said Mendez in an interview with NBC Latino.

Charisma Carpenter has been described as Latina a lot lately, but is she? Charisma's dad is French and German, but her mom is a mix of Cherokee and Spanish, Latina magazine reports.

Helena Bonham Carter has a very interesting background: British, French and Spanish. But does that mean that she is Latina?

She has a Latino name, but it seems like that is pretty much what there is to it. "I wanted a name I could shape the music towards. I was going to Miami quite a lot at the time, speaking a lot of Spanish with my friends from Cuba. It sounded gorgeous coming off the tip of the tongue," said the singer who's real name is Elizabeth Woolridge Grant in an interview with Vogue magazine.