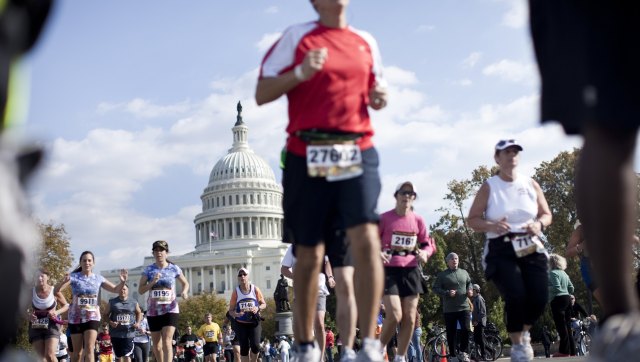 WASHINGTON -- The 2013 Marine Corps Marathon has sold-out in record time. The 38th edition of the race, scheduled for October 27, is one of the only marathons without a qualifier, lottery or fundraising minimun, making it a desirable option for runners of all levels. This year "The People's Marathon," filled their roster in 2 hours, 27 minutes.
The surging popularity of the race was not expected by the Active Network, the online event management company the Marine Corps Marathon hired for registration. From the Marine Corps Marathon press release:
"While the Marine Corps Marathon sold out in record time, many runners experienced the frustration of error messages and slow-loading webpages," said Director Rick Nealis. "These individuals were essentially in a
holding pattern as entries were being processed and capacity was reached."

Despite significant load testing on the system and preparation exercised over the past six weeks, the registration site experienced unexpected errors.

"Active Network experienced system issues with registration for the 2013 Marine Corps Marathon today as the demand shortened from hours to minutes," said Eric McCue, General Manager Sports for the Active Network. "For this, we at Active sincerely apologize."
Over 125 partners participate in the Charity Partner Program, allowing runners to race for varying amounts of fundraising.
The Transfer Program gives enrolled injured runners a chance to pay it forward. For $30, and most likely a reimbursement of the initial registration fee (it's ultimately up to both parties, not the MCM), a transfer between any registered participant and unregistered runner can occur on the Marine Corps Marathon site between June 5 and August 30. Most runners find each other on the MCM official Facebook page.
Related on HuffPost:
Getting Fit With Jackie Warner
SUBSCRIBE AND FOLLOW
Get top stories and blog posts emailed to me each day. Newsletters may offer personalized content or advertisements.
Learn more