If there's ever a time you need a little distraction in your life, it's during the divorce process. That's why we launched our Divorce Care Package series. With each post, we'll show you what things -- books, movies, recipes -- helped others relieve stress in the midst of divorce, in the hopes that a few of their picks will serve you well, too. Want to share what got you through your divorce? Email us at divorce@huffingtonpost.com or tweet @HuffPost Divorce
What can a woman depend on to get her through a divorce? According to HuffPost blogger Jennifer Ball, it's simple: a good dog, the love of your kids, Nora Ephron's highly relatable work -- and this guy: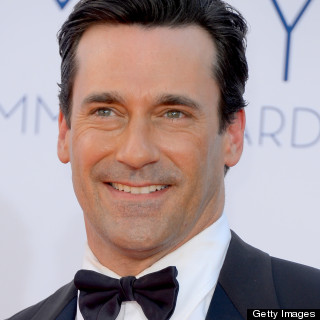 Sigh. Yeah, we get that.
Below, Ball, who blogs regularly about post-split life at The Happy Hausfrau, shares how each item helped her get through her divorce.
What Got Jennifer Ball Through Divorce
"Heartburn by Nora Ephron. The late, great, amazing Nora taught me to laugh through the tears, and also that there was a fabulous story buried within the messy remains of my marriage. I recommend this book to every woman who is facing adultery and divorce."

"I started writing a blog during my divorce. At first, it was purely therapeutic but then other women going through the same thing started finding me. The blog post that almost all of them stumble upon is this one: 'What To Do When Your Husband Leaves You.' It contains some good advice, some giggles and most of all, reassurance that you are not alone in this. You will get through it. "

"When I was all hear me roar, of course it was 'I Will Survive' by Gloria Gaynor. Cliché or not, you will dance around the living room singing along to this one with a hairbrush microphone. When I was mad? Godsmack's 'I F*cking Hate You.' Best treadmill song EVER. Crank that sucker and run, baby."

"About six months after the divorce was final, the kids and I went to the Humane Society and bought a rescue dog. We were all still feeling numb and disjointed, bringing Walter into our lives was a lesson in unconditional love. He's seven now and by far the best 'purchase' ever."

"For pure escapism, 'Mad Men.' Two words: Jon Hamm. Enough said."

"It was actually something my ex said as he walked out of our home for the last time, in the wee hours before the kids woke up, holding his golf clubs and his suits: 'You aren't going to do something stupid, like kill yourself, are you?' Those words have kept me going through the hardest of times...a man is walking out on his wife, four kids and a dozen years of marriage and those are his parting words? Get over yourself, dear. "

"One day, the kids returned from a visit to dad's house and they said Daddy's girlfriend had tried, with zero success, to replicate my famous curry chicken. I will admit that I took a small amount of evil delight in this news. It's a meal they all love and I still make it at least once a week. Recipe closely guarded, of course."

"On weekends when the ex had the kids, I opened my home to my wonderful group of friends and started having 'hen parties.' Funny, the married ones all loved that they now had a place to escape to every other weekend, and I loved reconnecting with my girlfriends. It helped with that 'empty house' sadness we all get when the kids are with the other parent."

"Having four kids means beautiful works of art are never in short supply. When one of my kids was given the assignment to 'draw your family,' this is what he came up with. When his teacher showed it to me at conferences, I wept a little. Because he had given me spectacularly long legs, yes, but also because this symbolized our "new" family. It was sad that his dad was no longer in the picture but it was a huge reminder to me that I had to keep on chugging along... these kids depended on me to be the head of the household now."
Keep in touch! Check out HuffPost Divorce on Facebook and Twitter.