Doug Gottlieb Brings 'White Man's Perspective' To CBS' NCAA Coverage, Apologizes (VIDEO) [UPDATED: Barkley Responds]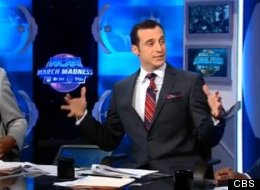 After spending the opening weekend of the NCAA Tournament calling the games in Salt Lake City, Doug Gottlieb joined CBS' studio show for the start of the Sweet 16 on Thursday.
It seemed that he wanted to announce -- and explain -- his presence alongside Greg Gumbel, Greg Anthony, Kenny Smith and Charles Barkley with a joke.
"I'm just here to bring diversity to this set," Gottlieb said after being introduced early in the broadcast, "to give the kind of white man's perspective."
WATCH VIDEO ABOVE
While Gottlieb's co-hosts -- all African-American analysts -- didn't seem to know how to react to his apparent attempt at humor it generated plenty of commentary on Twitter, including at least on call for him to lose his job.
STORY CONTINUES BELOW

Responding to the wave of criticism on Twitter, Gottlieb stated his comment was a joke.
It is called a joke RT @brucepittman61: @gottliebshow "White man's perspective." really?

— Doug Gottlieb (@GottliebShow) March 28, 2013
Matt Yoder of Awful Announcing previously deemed Gottlieb the "Most Polarizing" broadcaster in the opening weekend of the tournament. The college basketball analyst and radio host seemed to make himself the early favorite for that honor again -- and likely worse -- just minutes into the Sweet 16.
Before the four games on the schedule for Thursday were even over, Gottlieb issued an apology through CBS, according to The Associated Press.
"It was not a smart thing to say and I apologize," Gottlieb conceded.
[Video via Ra Spot]

UPDATE 11:38 p.m. EST: Charles Barkley took a moment to defend Gottlieb during halftime of the Sweet 16 game between Wichita State and La Salle, railing against "idiots" on Twitter criticizing the comment.
Not surprisingly, that commentary also generated a strong response on Twitter.
@iamhamil

Dustin Hamil
So Charles Barkley comes to
@GottliebShow
's defense. It wasn't that big a deal anyway. Had Chuck said it nobody would have said a thing.
@TabakRules

Matt Tabak
Charles Barkley's response to Twitter outrage about
@GottliebShow
's joke was brilliant.
@CoryJennerjohn

Cory Jennerjohn
Barkley just called out everyone on Twitter for blasting Gottlieb. He said himself, Gumbel and Anthony didn't think it was a big deal.
@sjasonh

Jason Hall
Charles Barkley just gets after all the "idiots on Twitter" for being overly diversity sensitive. Nicely done
#sircharles
.
@j_marra04

Joe Marra
Charles Barkley just made that awkward moment 20x more awkward than it was
@NickDonovan2

Nick Donovan
I hate when announcers say how a subject is going crazy on twitter when it not trending and nobody even knows....
#barkley
@111_Bradley

Braiden Bradley
Wow Charles Barkley is so rude and an idiot for calling everyone on twitter idiots!
#Youretheidiot