Anderson Cooper received a daring addition to his wardrobe on his daytime show Friday.
Guest host Jill Martin, sportscaster and author of the new book "I Have Nothing To Wear!", brought French fries for Cooper and — since he loves them so much — a t-shirt emblazoned with a blown-up image of French fries.
"That's quite a look," Cooper said, before pulling the shirt on and imitating a crazed, wide-eyed person stuffing fries into his mouth. "I don't know if I can pull this off," he added.
PHOTO: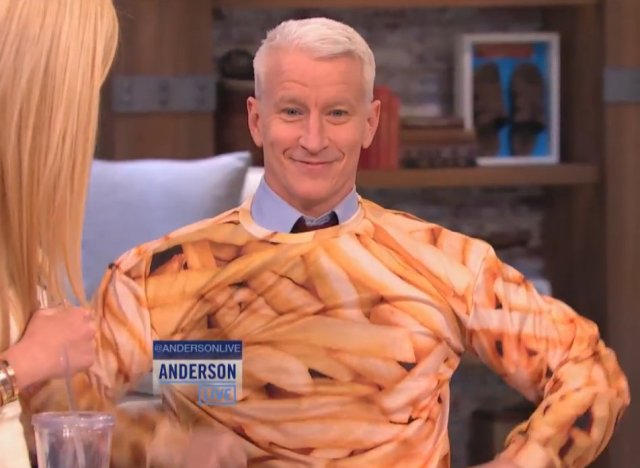 The shirt is not exactly something we see everyday — and MIGHT, as Cooper suggested, be more fitting for a fries-obsessed loon. On the other hand, clothes are all about personal expression, and Cooper said he thinks McDonald's fries are the best in the world.
Cooper professed that he is a "total McDonald's person," as opposed to Burger King. He said that he sometimes goes there when traveling and waits for the regular menu to start at 10:30 a.m. because he doesn't like the breakfast offerings at fast food chains (we have totally done this before, too).
Related on HuffPost:
Anderson Cooper Through The Years
FOLLOW HUFFPOST