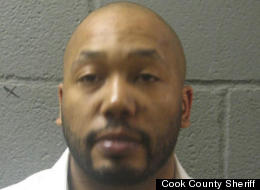 Police say a deadbeat dad from the Chicago suburb of Maywood was found literally trying to crawl away from making child support payments.
Cops were trying to execute a child support warrant for 36-year-old Steven Jones who the Tribune reports owes more than $70,000 in past-due payments.
Deputies went to the 900 block of South 5th Avenue in Bellwood about 9:30 p.m. Thursday, after they learned Jones worked as a tax preparer there, the Associated Press reports.
Cook County Sheriff Tom Dart said after failing to answer the door, Jones spotted the officers who say they saw the man "drop to the floor and crawl downstairs."
Jones was arrested on the child support warrant when officers found him hiding in the basement, the Sun-Times reports. He was also charged with obstruction of service of process.
Jones received a $30,000 I-Bond for obstruction Friday at the Maywood Courthouse, as well as a $2,000 C-bond for the child support warrant.