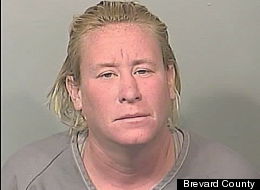 A Florida woman was arrested after she allegedly pooped in a man's backyard and took a skinny dip in his swimming pool.
Cheryl Beauchamp, 35, was detained Thursday and charged with burglary, according to the Brevard County Sheriff's Office.
The Palm Bay homeowner called police after he said he spotted Beauchamp on a home surveillance system, Click Orlando reported. He told officers he witnessed Beauchamp defecate in the yard before using a rock to cut the screen door that led to the pool.
Beauchamp allegedly told police she was "just taking a bath because she was homeless," according to a report obtained by WESH. Officers say she added that she was on her way to Washington D.C. to yell at Barack Obama.