Snagging a $1500 necklace for a mere $47 seems too good to be true, right?
Recipients of Macy's national catalog had to really think this one through when the aforementioned price reduction was listed as a "Super Buy." The item, a 14k Gold and Sterling Silver Necklace, was even available for purchase in store, according to customer Robert Bernard.
In an ABC News segment, Bernard recounts his experience at the Texas Macy's in Collin Creek Mall, where he witnessed the $47 necklace sell out before he ordered two of them to be shipped to his home. His total savings? $1,406. (That sure beats any deal we've ever scored.)
Unfortunately, this was too good to be true. Macy's called a couple of days later to inform Bernard of the incorrect pricing and cancelled his order. The actual price of the 14K necklace was $479 -- meaning, the "9" was accidentally omitted. Oops?
Beth Charlton, a Macy's spokeswoman, gave a statement to News 8:
"When the mistake was caught, signage did go up in the fine jewelry department and on store doors alerting customers that a mistake had been made. For those customers who bought the necklace at the $47 price, they were fortunate. For the gentleman you spoke with, he was not so fortunate. We are sincerely sorry he was disappointed and unable to buy the necklace at the $47 price for his wife."
Thus far, this hasn't really been a great year for the jewelry industry. Back in February, the De Beers counter in a Paris department store was robbed of millions of euros worth of stock. Just a day before that, armed robbers at Brussels airport left with $50 million worth of diamonds after a five-minute heist.
We're not sure just how much Macy's lost in their unfortunate typo incident, but we're pretty sure they'll never take catalog editing lightly again. Check out the video and shot of the typo and tell us what you think!
WATCH: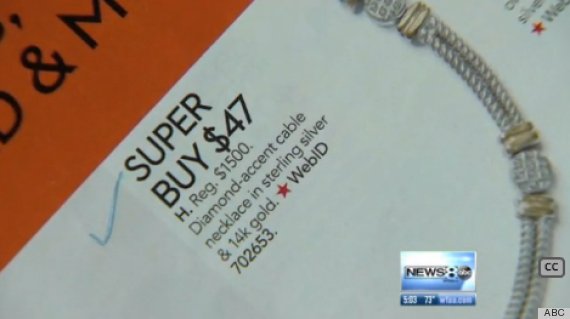 Like we said, our best deals can't compare...
Our Best Shopping Deals... Ever!
"I got this necklace at H&M for only $12. Whenever I wear it people are shocked to hear where it's from, as it looks much more expensive in real life!" - Michelle Persad, fashion and beauty assistant, HuffPost Style

"I got this beanie for $1 at the dollar store around the corner from my apartment." - Michelle Persad, fashion and beauty assistant, HuffPost Style

"The story takes place at Bloomingdale's. My mom and I brought the dress, which was about $150 to the register, and they rang us up for one penny. They were dead serious. They explained that the dress shouldn't have even been out on the selling floor, that it was some sort of mistake, and that it was a penny. My mom and I, dying of laughter, actually had to scrounge around our purses for a penny, but we finally found one. The receipt listed our savings as, well, about $150. We laughed all the way home." - Ellie Krupnick, senior news editor, HuffPost Style (pictured on the far right)

"I realllly wanted this dress at Madewell but thought it was too expensive. I waited around till they emailed me a 40 percent off holiday promo, but the dress was out of stock by then. I called up their style specialists, who helped me to locate the last one in my size at the Fifth Ave store. I picked it up that day for $60 after all the markdowns -- less than half the original price!"- Lauren Leibowitz, associate editor, HuffPost Style

"I got Current/Elliott patterned jeans for $78 at Nordstrom Rack. Originally $198. And they're cropped jeans, meaning they're the perfect length for my short lil' legs! It always pays to hunt through those places" - Lauren Leibowitz, associate editor, HuffPost Style

"I got this Gap denim jacket for $15!" - Dana Oliver, beauty editor, HuffPost Style

"These shoes are like six years old -- and from Target -- but I still love them and they're blue! I get at least three compliments from people on the train or the street every time I wear them. They were also only $14.99!" - Raydene Salinas, photographer and photo editor, HuffPost Style & Home

"These Gap jeans were only $3.50!" - Brie Dyas, senior features editor, HuffPost Style & Home

"I have an oversized navy blue leather clutch that I bought at a vintage store in the Marais in Paris last year for €2. I love it so much! " - Meredith Melnick, HuffPost nutrition and fitness editor

"I got this Luella Bartley dress for $1 on the Outnet." - Lori Fradkin, HuffPost senior lifestyle editor

"I got these J. Crew cords (in seafoam green) for only $14.99." - Christina Anderson, fashion editor, HuffPost Style

"Picked up this funny hanging cupboard thing at the Ladies Village Improvement Society in Amagansett last summer. It was $5, and is now my very favorite thing in my apartment. It hangs above my desk, and I've placed small photos and other small objects in the compartments. I almost didn't buy it, which sort of blows my mind. It was the price of a latte. (Also: Ignore the smizing happening in this photo.)" - Simone Kitchens, senior beauty editor, HuffPost Style

"I got this vintage LL Bean coat for $30 at Beacon's Closet. It's mens from the '70s and I wear it all the time!" - Rebecca Adams, associate news editor, HuffPost Style

"I was thrifting with my best friend in Santa Fe when I discovered this 1970s gem. The second I walked in the door I spotted it hanging on a mannequin. The tag said "faux $11.99", but I didn't care cause the hardware was awesome. That night I had a hunch it was too cool to be fake and soon discovered the serial number. Turns out this is the real deal, and is even in the Metropolitan Musuem's collection. Lucky me!" - Elizabeth W.

Keeping up with all the shopping discounts on the web and in your favorite stores can be a challenge. But what if you had a mini personal shopper that sits in the palm of your hand to help remind you that your favorite pair of shoes is now discounted and just a click away? Priya Desai takes a look at the apps and websites that make sure you never pay retail again!
Want more? Be sure to check out HuffPost Style on Twitter, Facebook, Tumblr, Pinterest and Instagram at @HuffPostStyle.
--
Do you have a style story idea or tip? Email us at stylesubmissions@huffingtonpost.com. (PR pitches sent to this address will be ignored.)