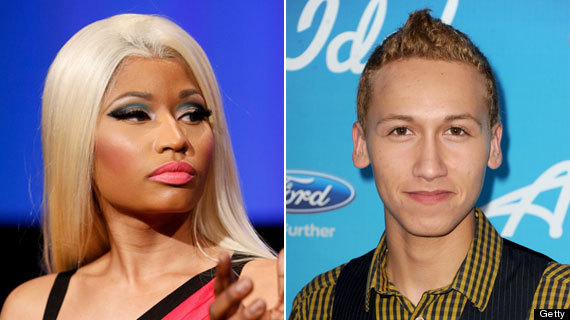 Nicki Minaj y Devin Velez, uno de los concursantes latinos de "American Idol", se han peleado. Según detalla la revista Billboard, la cantante y el chico, eliminado esta semana, se pusieron los guantes de box y se dijeron de cosas, nada sutiles.
Desahogándose en su cuenta de Twitter, la cantante de 30 años criticó a Velez porque el chico se quejó de que ella "lo había ignorado" durante la noche de resultados en donde quedó fuera del show, el pasado 28 de marzo.
Velez recibió el menor número de votos esta semana y, aunque le dieron la oportunidad de cantar una vez más "por su vida", para ver si los jueces le otorgaban una "salvada", no resultó.
La eliminación de Devin viene después de que fue muy criticado, junto a los otros dos hombres restantes en la competencia, el concursante de raíces cubanas Lazaro Arbos y Burnell Taylor, por su interpretación de "I Can't Help Myself (Sugar Pie, Honey Bunch)" en donde los chicos olvidaron la letra y sonaron mal. Minaj en particular los criticó fuertemente y les ordenó que se fueran del escenario.
Velez, por su lado, aseguraba que ÉL sí se supo su parte de la canción y que estaba ayudando "a un par" que no estaban dando el ancho. (chico, sólo quedaban justamente "un par" a tu lado). Durante una conferencia con la prensa el viernes, Velez habló sobre Nicki y la situación, como nos comparte Billboard.
"Estuve de acuerdo con la primera mitad de su crítica, cuando dijo que se sentía como si estuviéramos en la semana de Hollywood, que era una broma y que cosas así no deberían pasar, por lo que iba a pretender que no nos había oído", dijo Velez. "Pero cuando se volvió loca - cuando dijo: 'sálganse del escenario, bla bla bla', yo pensaba, 'Guau, señorita Minaj, necesito que se calme por favor".
Velez entonces atacó no tan sutilmente a la cantante de "Starships", comentando a la prensa: "Tal vez estaba enojada porque la noche anterior estaba usando el mismo color de vestido de Mariah, o de que sí llegó ahora a tiempo. Jamás lo sabremos..."
Ante estos comentarios, Minaj se enojó aún más y comenzó una serie de mensajes en su cuenta de Twitter:
Lol. Be mad @ AMERICA when u get sent home. The JUDGES are the ones who FOUGHT for America to get the opp to VOTE 4 U!!! #memba?

— Nicki Minaj (@NICKIMINAJ) March 29, 2013
"Enójate con Estados Unidos cuando te manden a casa. Los JUECES son los que PELEARON para que Estados Unidos tuviera la oportunidad de VOTAR POR TI, ¿recuerdas?"
America r the "potential" fans...u MUST win them over."Saves" are bullshit and they know it. Those girls are just too good this year.

— Nicki Minaj (@NICKIMINAJ) March 29, 2013
"Estados Unidos son los fans "potenciales". Tú DEBES ganártelos. La "salvada" es una tontería y lo saben. Esas chicas simplemente son demasiado buenas este año".
Send the judges some flowers and a card. If Curtis didn't get SAVED, NONE of u get saved! Best male voice of the SEASON!!!!!!!!!!! #TruthTea

— Nicki Minaj (@NICKIMINAJ) March 29, 2013
"Envíenle a los jueces unas flores y una tarjeta. Si Curtis no fue SALVADO, NINGUNO de ustedes será salvado. Él era la mejor voz masculina de la TEMPORADA".
Trust me BEW BEW. If EYE didn't want u in that TOP, YOU wldnt have been in that TOP. Fought for ALL of you. So just simply b gracious.

— Nicki Minaj (@NICKIMINAJ) March 29, 2013
"Confía en mí, BEBÉ. Si YO no te hubiera querido en ese TOP, TÚ no habrías estado en ese TOP. Peleamos por TODOS ustedes. Así que simplemente, ten un poco de gracia".
Y en lugar de aceptar la crítica y dejarlo por la paz, Velez, de 18 años, respondió con otro mensaje en su cuenta de Twitter (que más tarde borró), que leía: "Ese momento en que un adulto se rebaja a la altura de alguien en tercer grado. Madura, cariño. Yo tengo canciones que escribir. :) #siguiendoadelante".
FOTOS DE NICKI MINAJ:
SUBSCRIBE TO & FOLLOW THE MORNING EMAIL
Start your workday the right way with the news that matters most. Learn more