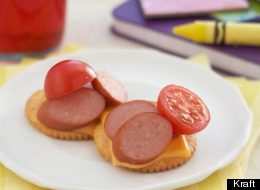 In honor of the first day of April, we wanted to discuss some of the hottest recipe trends for spring entertaining. The temperature is rising, buds will be blooming soon and we'll be in the mood to host a spring cocktail party that will wake us all up from the winter doldrums.
We often like to simplify cooking, but the recipes we've found below are designed to impress. Inviting your boss over for dinner? We have the perfect canapé. Want to impress your in-laws? We've got a cake for that. Simply want to celebrate spring in a fresh, new way with seasonal flavors? You've come to the right place. Let's throw a dinner party so good, people wonder if you're playing a joke on them. Above all, happy April 1, everyone.
Want to read more from HuffPost Taste? Follow us on Twitter, Facebook, Pinterest and Tumblr.
Get the Warm Salmon Dip recipe We think this recipe is missing step four: Bask in the revelatory glow of recipe innovation.

Get the Hot Dog Bites recipe We know, a lot of components to worry about. But when you execute them correctly, magic happens.

Get the California Snackers recipe

Get the Creamy Mediterranean Bites recipe They're Mediterranean because of the... olives. We think.

Get the Cheesy Apple Rings recipe

Get the Fruit and Cheese Bites recipe For important guests only.

Get the Chunky Salsa Cheesecake recipe

Get the Funny Face Cheesers recipe Having a foreign dignitary over for dinner? We've solved your canapé problem!

Get the Simple Triscuit Salsa Bites recipe

Get the Italian Chopped Salad in Warm Rosemary Bread Shells recipe Because presentation is everything.

Get the Cheesy Volcano Meatballs recipe

Get the Shripwreck Dinner recipe Probably because it's so delicious, you'd choose to be stranded on a desert island with it. Right??

Get the Slow Cooker Nacho Chicken & Rice Wraps recipe

Get the Tuna & Pasta Cheddar Melt recipe

Get the Mini Goldfish® Meat Loaves recipe Take that, Per Se.

Get the Peanut Butter Banana Tacos recipe This taco is continuously left off all those "Best Tacos in America" lists. Criminal.

Get the Creamy Apple Bites recipe

Get the Pineapple Yogurt Dip recipe

Get the Spiced Tomato Soup Cancakes recipe Not only are these baked in soup cans, they also contain tomato soup! In cake. Just to be clear, there is tomato soup in these cakes.

Get the Easy Tomato Soup Spice Cake recipe Why haven't we ever thought of this before? Oh, because it's revolting? Maybe.

Just kidding, please don't eat any of that stuff!