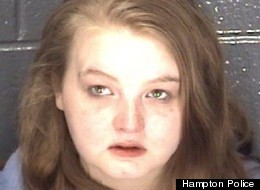 Officers and K9 units in Hampton, Va., said they found themselves the butt of an April Fools' Day joke when a Waffle House employee reported a fabricated robbery.
Susan Tinker, 20, was arrested and charged Monday morning with falsely summoning police, NBC affiliate WAVY reported.
When authorities responded to her 911 call, they interviewed employees while canines sniffed the scene for evidence -- a process which took more than an hour to complete, WTVR reported.
A review of the surveillance footage proved the incident was an April Fools' Day hoax,according to NBC News.
Hampton Police Division Cpl. Mary Shackelford told the station that officers won't take pranks like Tinker's lightly.
"Sometimes we'll get incidents where kids are playing around on the phone," she said. "But usually it's nothing of this caliber."
According to a news release obtained by The Virginian-Pilot, Tinker's charge, a misdemeanor, can result in up to a year in prison and/or a $2,500 fine.
Moral of the story? Stick to whoopee cushions, kids.