No doubt fueled by the media storm surrounding last year's Crown Crust launch abroad, Pizza Hut announced Monday the debut of the similar Crazy Cheesy Crust Pizza in the U.S. It's essentially the next generation of stuffed-crust pizza.
The Crazy Cheesy Crust Pizza offers a ring of cheese pockets around the crust, two per the average slice. The pockets contain a five-cheese blend of provolone, asiago, mozzarella, fontina and mild white cheddar. They can be pulled off individually or eaten as part of the slice. The rest of the pie comes with the same toppings as regular pizzas, but the toppings do not cover the cheese pockets.
The new pizza will launch on April 3 and will be available for a period of six weeks to three months, Pizza Hut spokesman Doug Terfehr told The Huffington Post. A pie will cost $12.99 with a single topping -- three dollars more than a regular pizza. Terfehr was vague about the odds of the item staying on the permanent menu, but he alluded to the possibility that it might be brought back in the future.
So what does this bad boy taste like? While the shape is somewhat revolutionary, the taste isn't. The pockets are a little bit sweet, the five different cheeses aren't individually perceptible, and they definitely taste different than the cheese on the rest of the pizza slice.
HuffPost Food editors agreed this is a pie for super serious cheese lovers -- it's decadent and intense. It's also a very heavy slice, good for a gluttonous mood. But it sits like lead in your stomach, so be careful how many slices you consume.
Pizza Hut Executive Chef Wiley Bates is very enthusiastic about the new pie and said he would like to see it as a core item on the menu. He described the launch as a "fastball down the center" between Pizza Hut's traditional offerings and the notion of the Crown Crust.
Bates said the Crazy Cheesy Crust probably took about a year to develop from start to finish. During testing, the culinary team experimented with everything from pesto to pepperoncini, sun-dried tomatoes to bacon. They played around with ingredients on top of the cheese pockets and under them.
It's likely that this current limited-time offering is merely testing the waters for the Crazy Cheesy Crust concept. Yum Brands, Pizza Hut's parent company, prides itself on innovative products. When Pizza Hut introduced stuffed crust in 1995, it pretty much changed the pizza game.
Now Bates is busy trying to envision the next frontier in pizza. Several times during the course of our conversation, he asked, "What is 2.0 for us?"
While he's figuring out that answer, take a look at the Crazy Cheesy Crust: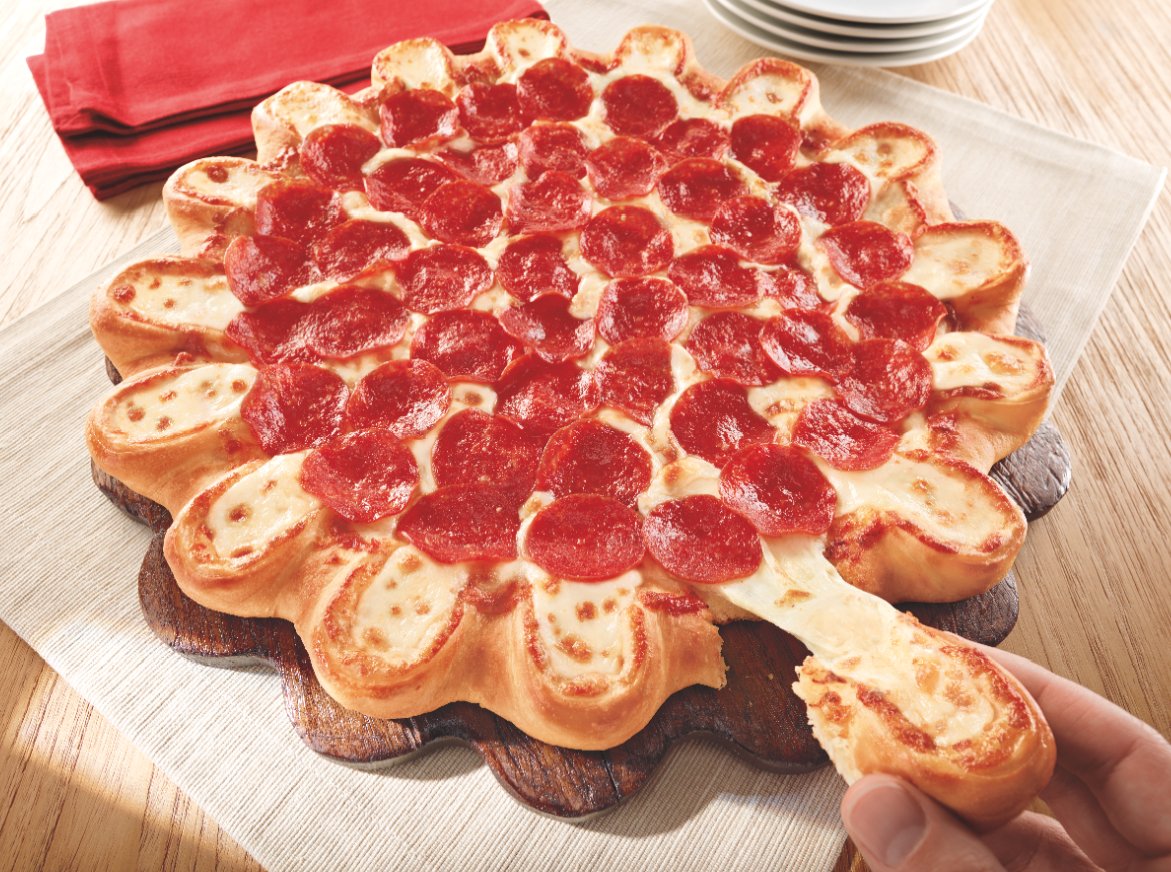 Also on HuffPost:
Loading Slideshow
Pizza Hut's "Crown Crust Carnival"

If regular pizza crust has you bored stiff, venture to the Middle East for <a href="http://www.huffingtonpost.com/2012/04/24/pizza-hut-middle-east-crown-crust-carnival_n_1448413.html">Pizza Hut's stuffed crust pies -- filled with cheeseburgers and chicken fingers</a>. They're aptly named "Crown Crust Carnival" pizzas.

KFC's "Mac & Cheese Bites"

<a href="http://www.huffingtonpost.com/2012/11/01/kfc-philippines-mac-and-cheese-bites_n_2058375.html">KFC's introduced "Mac & Cheese Bites" to the Philippines</a> earlier this year. The bite-sized snack has a crunchy outside filled with macaroni and a creamy cheese.

Pizza Hut's Hot Dog Stuffed Crust

<a href="http://www.huffingtonpost.com/2012/04/09/hot-dog-stuffed-crust-pizza-hut_n_1412110.html">Hot dog-stuffed crust from Pizza Hut</a> is a very real thing, but unfortunately only in the U.K. Drat.

McDonald's "Gracoro" Burger

We love croquettes, but on a burger? McDonald's Japan recently unveiled a <a href="http://www.huffingtonpost.com/2012/11/14/mcdonalds-japans-gracoro-burger_n_2129343.html">burger with a croquette-esque patty of macaroni, shrimp and white sauce with a breadcrumb crust</a> called the "Gracoro" burger

Pizza Hut's Cheesy Bites Pizza

First there was Pizza Hut U.K.'s hot dog-stuffed pizza. Then there was the Pizza Hut Middle East's hamburgers and chicken strips-stuffed crust. And then, crazy stuffed crust came to the U.S. with <a href="http://www.huffingtonpost.com/2012/04/27/pizza-hut-cheesy-bites-review_n_1459361.html">Pizza Hut's Cheesy Bites Pizza</a>.

KFC's "Cheese Top Burger"

Yes, this is real: KFC Philippines is offering something called the <a href="http://www.huffingtonpost.com/2012/06/27/kfc-cheese-top-burger_n_1631452.html">"Cheese Top Burger,"</a> a fried chicken patty sandwich with garlic Parmesan dressing and a slice of cheese melted atop the bun.

Pizza Hut's "Double Sensation"

Available only in Singapore through the end of December, <a href="http://www.huffingtonpost.com/2012/12/20/pizza-hut-double-sensation_n_2338263.html?utm_hp_ref=food">Pizza Hut's "Double Sensation"</a> pie featured two crusts and two different rings of toppings. It's like two pizzas in one!

Taco Bell's Doritos Locos Tacos

Doritos Locos tacos were a big winner this year, becoming Taco Bell's best-selling product ever. It sold about 100 million in roughly 10 weeks, and its popularity hasn't dimmed yet.

Burger King's "Premium Kuro Burger"

Colored hamburger buns are the new big trend abroad, it would seem. Burger King Japan is the latest to join the ranks of alternative-color buns with its <a href="http://www.huffingtonpost.com/2012/09/24/burger-king-japan-kuro-burger_n_1910213.html">"Premium Kuro Burger,"</a> which aptly translates to "Black Burger." The buns are colored with bamboo charcoal that's mixed into the dough. The ketchup is black, too -- it's flavored with squid ink.

Wendy's Decadent Lobster And Caviar Offerings

Wendy's Japan brings us two offerings you'd scarce believe are on a fast food menu: the Lobster Surf & Turf Burger and the Premium Caviar & Lobster sandwich. The Lobster & Caviar sandwich features both claw meat and lobster salad topped with a mustardy mayonnaise and sprinkled with caviar. The Surf & Turf Burger is a classic Wendy's burger topped with whole pieces of Canadian lobster.

Burger King's Bacon Sundae

Bacon fever came to a head this summer with <a href="http://www.huffingtonpost.com/2012/06/12/burger-king-bacon-sundae_n_1590522.html">Burger King's bacon sundae</a>, which although only a limited-time offering, earned a permanent place in our hearts and stomachs.

Pizza Hut's "Kit Kat Pops"

<a href="http://www.huffingtonpost.com/2012/09/25/pizza-hut-middle-east-kit-kat-pops_n_1912387.html">Pizza Hut Middle East serves up an interesting dessert called "Kit Kat Pops,"</a> which look to be Kit Kat bars baked into sweet pizza dough. They come in a cheese variety, as well.

Pizza Hut's "Cone Crust Pizza"

As if Pizza Huts in the Middle Eastern didn't already serve enough over-the-top pizzas, the chain now serves <a href="http://www.huffingtonpost.com/2012/09/24/cone-crust-pizza-hut_n_1911029.html?utm_hp_ref=food">"Cone Crust Pizza."</a> The pie features Parmesan-crusted dough cones where a normal crust should be. The cones come stuffed in either Philadelphia cream cheese or honey mustard chicken.