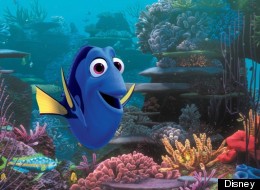 Dory is swimming her way back to the box office.
Disney and Pixar announced Tuesday that "Finding Nemo" is getting a sequel with the upcoming release of "Finding Dory."
"I have waited for this day for a long, long, long, long, long, long time," said Ellen DeGeneres, who voices Dory, in a statement. "I'm not mad it took this long. I know the people at Pixar were busy creating 'Toy Story 16.' But the time they took was worth it. The script is fantastic. And it has everything I loved about the first one: It's got a lot of heart, it's really funny, and the best part is—it's got a lot more Dory."
"Finding Dory" is reportedly set on the California coastline, one year after "Finding Nemo." The animated flick will include many of the characters from the first film, such as Marlin, the Tank Gang, and of course, Nemo.
The sequel was first reported by Deadline.com in July of 2012. Andrew Stanton will direct "Finding Dory," with Albert Brooks, who voiced Marlin in the first film, returning as well.
"Finding Nemo" was a major success for Disney and Pixar. Released in 2003, "Finding Nemo" reached a total worldwide gross of $921.7 million, and took home the Academy Award for Best Animated Feature.
"Finding Dory" will hit theaters on Nov. 25, 2015.
The studio has lured some pretty good gets from celebrities either looking to impress their kids or earn a stable residual check, but Paul Newman is the cherry on top... or should that be the salad dressing?

Even amid the intense pressure to keep topping themselves movie after movie, some of the studio's best and brightest find time to voice a character or two, as did the late Joe Ranft who helped define modern animation.

The sardonic postal worker from "Cheers" has found a home in every single Pixar movie, and neither snow nor rain nor heat nor gloom of night stays him from doing so. His bad guy straight out of Jack Kirby-era "Fantastic Four" is the hilarious punchline of "Incredibles."

"Lawrence of Arabia" himself lent an extra air of gravitas to the stuck-up food critic who gets magically transported back to his childhood via a simple peasant dish.

For years comedian Patton Oswalt used Brian Dennehy as a punchline in his act, so it was fitting that the great character actor should wind up playing his garbage eating, philistine rat of a father.

"My name is Dug. I have just met you, and I love you." Right back at ya, Dug. Right back at ya.

Pixar knows how to do cute, no question, but when Sully walks through that door at the end of "Monsters Inc." to Boo's bright exclamation of "Kitty!" we dare your heart not to melt.

Jason Lee's dastardly Syndrome managed to wipe out a whole slew of superheroes, but Ned Beatty's pink plushy Lotso ran the Sunnyside toy room like an SS officer.

Even cartoon characters need some delicious-looking arm candy when they're walking down the red carpet, digital be damned. While all these lovely ladies have got the goods (and you, Ken), the carnal potential of Holly Hunter's bendy/stretchy Elastigirl seems downright limitless.

What hero would be complete without their stalwart companion to get them out of some serious jams? Trouble is they're often so gosh-darned likable they wind up stealing the show, like Ellen DeGeneres' Regal tang did from Albert Brooks' neurotic clownfish.

Every film in the Pixar canon has a central, defining character that has gone on to become an icon in their own right. While Tom Hanks' cowboy doll straight out of the '50s will always be the gold standard for lovability, each new hero, be they a rat, fish, robot, or superhero, is as unique as the one who came before.