Paris thinks Los Angeles is delicious. And how can it not? While Paris is home to one of the world's greatest historic food traditions, LA's cuisine represents the here and now: ethnic as mainstream, dude food and farm-to-table classics.
On April 26 and 27, the cuisines of these two foodie cities will kiss at Le Grand Fooding Crush, a two-day picnic party outside the Geffen Contemporary at MOCA in downtown LA. The festival gathers 10 of the cities' best chefs, as well as a few DJs and designers, for two nights of food, booze and art -- a perfect first date for two flirting cities.
Repping LA are chefs Nancy Silverton of Mozza, Ludo Lefebvre of Trois Mec, Roy Choi of Kogi BBQ, Josef Centeno of Baco Mercat, Jordan Kahn of Red Medicine and Carolynn Spence of Chateau Marmont.
Parisienne chefs include Jean-François Piège of Restaurant Jean-François Piège, Inaki Aizpitarte of Le Chateaubriand, Grégory Marchand of Frenchie and Sven Chartier of Saturne. Street artists Shepard Fairey and André are designing t-shirts for the event.
The food/art/culture fest is born out of Le Fooding, a 12-year-old French website that bills itself a "cool alternative" to the august Michelin guide when it comes to restaurant and event recommendations. Le Fooding has hosted events in New York for the past four years, and April's shindig marks its first arrival in Los Angeles.
For those of us who haven't visited the City of Lights, the Parisian chefs will be unfamiliar names and faces. Marchand bridges that gap between France and the United States; at 34 years old, he's spent more than 10 years working abroad in Spain, England (where chef Jamie Oliver game him the nickname "Frenchie"), Scotland, Hong Kong and New York.
Marchand opened Frenchie in 2009 as an unknown; he had left France immediately after culinary school. But the cultural sleuths at Le Fooding sniffed out his global bistro cooking, a reflection of every place he had ever worked, and they blew him up on the restaurant's the second week.
Now Frenchie has a reputation for being one of the toughest reservations in the world, and to keep adding seats, Marchand opened a wine bar across the street and has a third spot in development down the block.
Marchand hopes the Le Fooding events will dispel notions that French chefs are "old school" and "sleeping on their laurels."
"We have really dynamic young chefs, all well-traveled and with open minds," he said in a phone interview with The Huffington Post. Not unlike LA's food scene, which he admitted he didn't know too well.
"To be honest, I dont even know many of the chefs there," Marchand continued. "I'm really excited to get to know the chefs of Le Fooding -- exchange [ideas] and party and cook some good food." He also hopes to get some inspiration for his third restaurant, which he said would be a global take on street food: a little bit of New York deli mixed with British greasy spoon and perhaps a touch of what he sees when he visits LA for the first time in April.
"We want to check out the street food scene in LA," he said, which is why he's bringing along the manager of his third restaurant. For fans of French food in LA, hopefully inspiration is a two-way street.

WHAT: Eat, drink and be merry at the first ever Le Grand Fooding Crush Paris-L.A.
WHO: Francophiles in LA who love to eat.
WHEN: April 26-27 (6 to 10 p.m.)
WHERE: The Geffen Contemporary at MOCA, 152 North Central Avenue, Los Angeles, CA 90012
COST: Le Tasty Crush ticket (7 to 10 p.m.) costs $50. and includes 1 flute of Veuve Clicquot.
Le Clicquot Crush ticket (6 to 10 p.m.) costs $80 and includes pre-tasting and complimentary Veuve Clicquot.
Le MasterCard® Priceless® Crush ticket (6 to 10 p.m.) costs $125 and includes pre-tasting, complimentary Veuve Clicquot from 6 to 7 p.m. and access to VIP Priceless backstage -- available to MasterCard holders only.
HOW: Sign up for tickets at legrandfooding.com. Twenty percent of ticket proceeds will benefit the LA Food Bank and MOCA.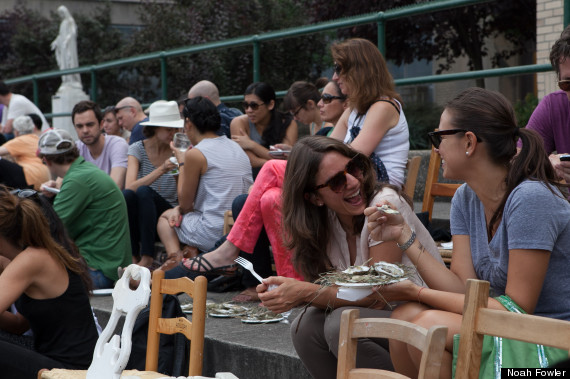 Le Fooding at Forte Greene Flea Market. (Photo credit: Noah Fowler).