Today is the birthday of Dada devotee and Surrealist artist, Max Ernst. The prolific painter, sculptor and creative partner of Dorothea Tanning, would turn 122 years old if he was miraculously still alive today.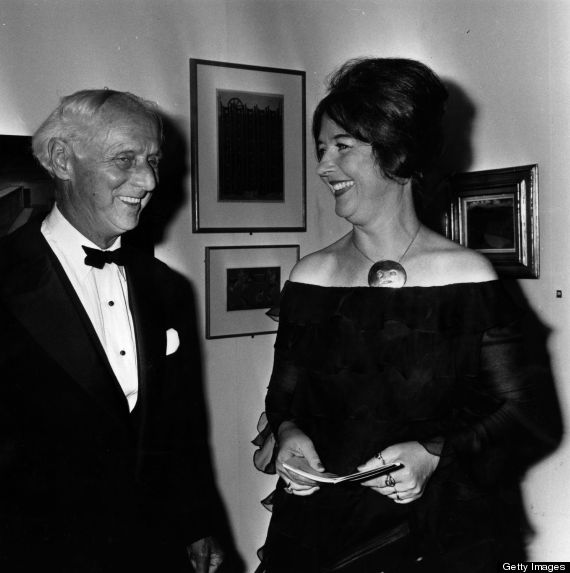 German painter Max Ernst (1891 - 1976) with his wife at the Tate gallery. (Photo by S O'Meara/Getty Images)
Ernst was born in Germany in 1891, and began his career in Cologne aside contemporaries like Hans Arp and Andre Breton. When he moved to Paris in the 1920s, he immersed himself in the growing world of Surrealist art, collaborating with Joan Miro and experimenting with his various art making techniques -- frottage, grottage and decalcomania. He also began to cultivate a fascination with birds, developing an avian altar ego named Loplop who appeared in many of the artist's collages. This was but one aspect of the artist's varied style, ranging from fantastical paintings like "Napoleon in the Wilderness" to stark sculptures like "The King Playing with the Queen."
The artist finally emigrated to the United States following the outbreak of World War II, settling down with his third wife, the famous art collector and gallerist Peggy Guggenheim. However, Ernst got lucky on wife number four when he met and married fellow Surrealist Dorothea Tanning, with whom he made a home in Sedona, Arizona in the 1940s. The duo ran in the same circles as Marcel Duchmap, Yves Tanguy and George Balanchine, eventually moving to France where they lived until Ernst's death in 1976.
To celebrate Mr. Ernst's birthday, we've put together a slideshow of some of his most well known works. Scroll through the images below and let us know how you are celebrating the big day in the comments.
PHOTO GALLERIES
Max Ernst