Today's cute kid note comes from the HuffPost newsroom! This work of art was produced by a young Carolyn Gregoire, Associate Lifestyle Editor, who clearly showed a penchant for writing from an early age.
Title: Things To Do To Bother Nick
Disclaimer: Carolyn assures us that she was not as mean as this note would have it seem (and of course, we believe her).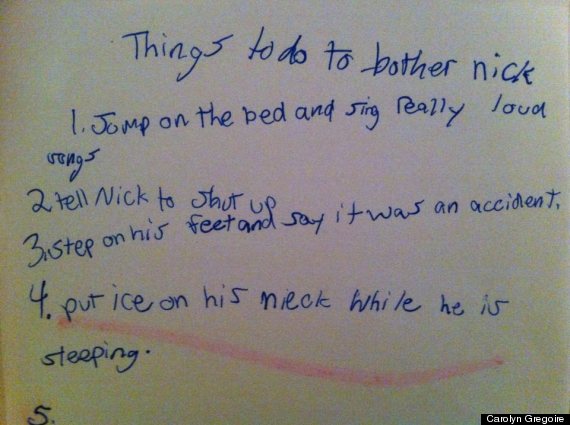 Has your child drawn or written something adorable? Send a photo, along with your child's name and age, to kidnotes@huffingtonpost.com or via Facebook or Twitter -- and it may be featured as our Cute Kid Note of the Day.
SUBSCRIBE AND FOLLOW
Get top stories and blog posts emailed to me each day. Newsletters may offer personalized content or advertisements.
Learn more