The Bompas & Parr Heinz Beanz Flavour Experience, With Musical Spoons (PHOTOS)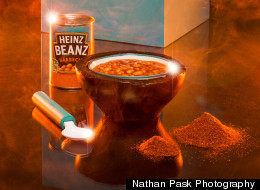 We were going to try to reserve our "musical fruit" jokes, but then we realized it was impossible. The Heinz Beanz Flavour Experience is the brainchild of food nerd virtuosos Bompas & Parr (who you may know for their incredible jelly projects), and is a multi-sensory bean eating experience.
These newly debuted Heinz Beanz flavors include a customized bowl, textured and conceived to match each individual flavor, as well as a musical spoon, which plays a tune that only the eater can hear. These spoons work by transmitting vibrations via your jawbone to your ear, the same way that swimmers' headphones operate. Why go to all this trouble for a few cans of beans? We'll let the Bompas & Parr team explain that one to you:
Have you ever wondered why fish and chips never taste as good as the time you ate them by the seaside out of paper? The reason for this is that our taste buds are intrinsically linked to our other senses -– it's not just about what we taste, but also what we see and touch. Our surroundings, shape, texture and even sound, can all affect our experience and enjoyment of food.
A limited number of these complex creations will be available from Fortnum & Mason, as they were the first retailer to carry the brand, way back in 1901. We haven't been able to find any information about ordering these online, so suspect that this may be an in-person experience only (any Londoners out there, do let us know if you see these!).
Want to read more from HuffPost Taste? Follow us on Twitter, Facebook, Pinterest and Tumblr.
The barbecue bowls are made from limewood and are turned on a traditional lathe. These are then heated over a flame until a layer of charcoal forms on the outer surface, evoking the idea of outdoor barbecues. As well as having the appearance and texture of charcoal, the bowls also have a traditional smoky, barbecue smell. Drawing a cultural reference to the Deep South, the music is inspired by gentle blues accompanied by harmonic phrases and sizzling barbecue sounds.

Made from over a kilo of yellow wax, the beautiful circular bowl is based on the form, texture and colour of a traditional round of cheese. The soundtrack has been constructed from a cheese wire playing the melody and percussion from tambourines and Heinz Flavoured Beanz cans, creating a very English sounding string composition reminiscent of Elgar or Holst.

When taste receptors sense heat, the brain responds with increased heart rate, releasing endorphins and increasing perspiration. This has been translated into the processes used to make the chilli bowl, and to a lesser extent, the experience of actually handling the bowl, which has elegant spikes protruding from the exterior. The bowl is formed under extreme heat and pressure; the stainless steel is shaped using a fine jet of water cutting though the metal. The music used has been created from samples that have been produced by chopping, scraping, sorting and throwing of the chilli itself. The resulting track has high frequency elements, which demonstrate the hot zing of a fiery chilli pepper.

Made from a three part mould, the bowl takes inspiration from the form of piles of dried spices. Made with a mixture of sand and resin, the bowls have a granular, sandy finish that references the texture and colour of curry powder and sand dunes. The musical spoon includes the sounds of typical Punjabi Bhangra, but without a traditional instrument in sight. Each groove component is made from a Heinz Beanz can filled with dried spices including chilli peppers, cardamom pods and cumin seeds. The resulting track sounds dry and crisp, with a warmth that conjures up the vibrant atmosphere of a busy spice market.

Based loosely on the organic shape of a garlic bulb, the bowl also references the papery layers found on the exterior. The bowls are hand assembled using 96 layers of 750 micron thick card, giving it a delicate and soft natural appearance, which creates a really pleasurable tactile experience as the bowl is held. Taking inspiration from the Mediterranean where garlic and herbs are a staple, the musical track has been composed using the rustling of garlic and the simulated sound of Heinz Flavoured Beanz cans jostling around on a hot, dry truck in the searing sun.