Anyone can tell you who's already made it, but HuffPost Arts & Culture's On Our Radar series is here to tell you who's about to blow up -- and, in some cases, go pop.
Io Echo recently released their first album "Ministry of Love" today, but the band has already been linked to art superstars. After seeing the duo Ioanna Gika and Leopold Ross perform live, MOCA director Jeffery Deitch asked Io Echo to curate an audio-visual festival last July called PLAY MOCA.
The pair also teamed up with director Harmony Korine to write the music for a video installation at this year's Venice Biennial starring -- you guessed it -- James Franco.
Blending synthetic and organic sounds from East Asia, including Japanese koto harps and Chinese violins, Io Echo's music transports us to faraway dreamland. We asked Ioanna and Leopold about their unique sound and what's next for the daring musical duo.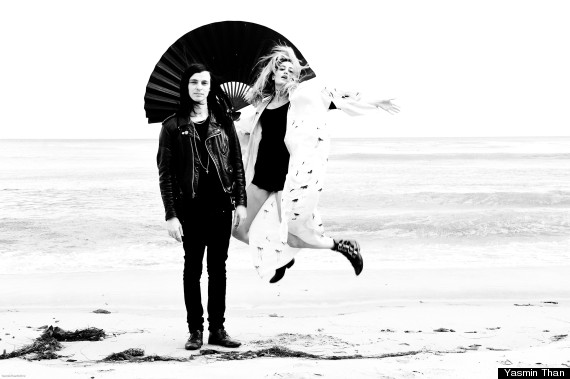 The Huffington Post: Who or what was an early influence on your work?
Ioanna: My family lived in different houses and countries, through divorce and death, but the one constant was that my parents were listening to Enya, Enigma and Vangelis. New Age music has had an influence on me. My mother's move to [East Asia] and my time with her there also had an impact on me.
Leopold: I think the explosive energy of bands like Pantera, Public Enemy and Nirvana really connected with me as an adolescent. They made me want to figure music out, because it enlivened my senses so much.
HP: What were the lowest and highest points in your career so far?
Ioanna: Low point: When we were writing our album my dad died. I was his only family in the US. It was grotesque and I won't really say much more, but I guess it's obvious why this might impact me.
Leopold: Low point: My first band got signed to a big major label deal when I was 14. It was a very 'boom and bust' situation and by 18 that band had broken up and I felt like my career was over. That was a low point and I think it took a bit of time to figure out what I was going to do. I moved to LA when I was 20 and that was a turning point for me. There have been many high points since then, but I prefer to keep looking forward rather than looking back and taking stock. It's all part of the journey, good and bad.
Ioanna and Leopold: The high point was when they told us we would be playing Coachella!
HP: What are you obsessed with right now outside of music?
Ioanna: The website www.newscientist.com or getting into an internet k-hole of information on things like "iridium" or "holograms" until 4am.
Leopold: I like the iPhone app Decim8 a lot. It's a photo mangling device that allows you to build your own effects. It's really addictive, I got so into it that I ended up using it to create our album art.
HP: So next question: Why does this project matter?
Ioanna: In my opinion it's not about "why" it matters, but the specific moment if and "when" it matters to someone. In other words, if a person is able to relate to any of the messages or emotions expressed in the songs and feels a connectivity, then it matters in that moment of connectivity. Why it matters is not for me to answer, necessarily. It's fun to imagine other people answering this question though. Perhaps I should have said "IT ENDS WAR" or "IT BRINGS CATS BACK FROM THE DEAD."
HP: Name a musician you are embarrassed about not knowing.
Leopold: I didn't become aware of Silver Apples until three or four years ago -- I wouldn't say I was embarrassed about it, though; it was more a feeling of excitement. I like it when I get into a band that already has a catalogue -- that way I can really immerse myself in their work.
HP: How would your childhood art/music/theater teacher describe you?
Ioanna: Some of my first music teachers have found me on Facebook after hearing about the band, which is nice and also odd because it's not like anyone knows who we are. They were supportive of me from a young age and I'm very thankful to them for nurturing me and letting my freak flag fly.
SUBSCRIBE AND FOLLOW
Get top stories and blog posts emailed to me each day. Newsletters may offer personalized content or advertisements.
Learn more