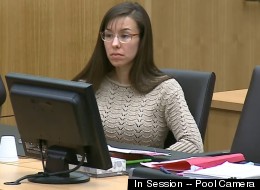 The Jodi Arias jury has a new panel member three months to the date since testimony began.
Arizona Judge Sherry Stephens dismissed a juror Tuesday morning after a meeting in her chambers with the prosecution and defense.
When the parties emerged from the meeting Stephens announced Juror Five had been removed and an alternate had been seated. Stephens did not explain the dismissal in court and told the jury panel not to speculate on the reason for the woman's dismissal.
On Sunday, Arias' defense team filed a motion for a mistrial. They accused Juror Five of misconduct, but they did not cite any specifics in their motion.
According to CNN, Juror Five, a woman in her 30s, had been gossiping about the case. She was seen sobbing when she left the courthouse, the news network reported.
The dismissed juror reportedly remains under a court-imposed gag order. She is the first juror dismissed from the case.
The judge denied the defense motion for a mistrial and the trial continued Tuesday afternoon.
Defense lawyers say Arias was physically and emotionally battered by Travis Alexander and feared for her life when she shot him, stabbed him nearly 30 times and cut his throat from ear to ear in his Mesa, Ariz., home on June 4, 2008.
Prosecutors say Arias, jealous of Alexander's interest in other women, attacked him in the bathroom of his home after the couple spent the afternoon in bed making love.
During her 18 days on the witness stand, Arias testified Alexander had once choked her and broke her finger. And, on the day of the killing, he body-slammed her, she said. Arias claimed she did not tell anyone about the incidents when they occurred.
Psychotherapist Alyce LaViolette returned to the witness stand Tuesday and again detailed her impressions of emails and journal entries in regard to the relationship between Arias and Alexander.
"He treated her badly but he didn't feel badly about it," LaViolette said of her assessment based on Alexander's alleged statements.
LaViolette, a domestic violence expert, previously testified about previously undisclosed emails from Travis Alexander's close friends that indicate he had a history of being abusive.
"They have basically advised Ms. Arias to move on from the relationship ... that Mr. Alexander has been abusive to women," she testified.
The jury could view LaViolette's testimony as crucial in determining whether there is merit to Arias' claim that she was a victim of domestic violence.
The trial is scheduled to resume at 12:30 p.m. Eastern time Wednesday, when LaViolette will continue her testimony.
TUESDAY'S LIVE BLOG:
"Jodi is thinking that she may be starting to get over Mr. Alexander ... that she things she may have learned something -- that she quick to fall in love," LaViolette said.