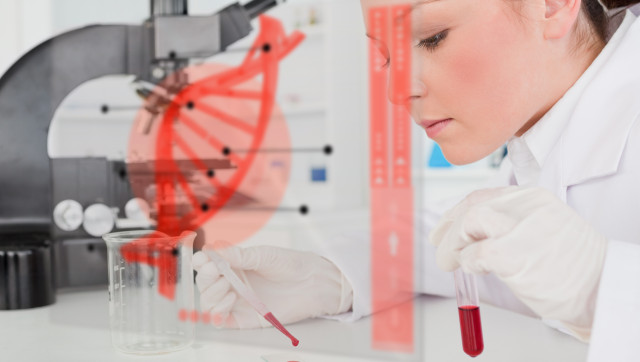 Two of the potential biological exposures within labs at the U.S. Army Medical Research Institute of Infectious Diseases in 2012 involved the monkeypox virus and Bacillus anthracis, which causes anthrax, spokeswoman Caree Vander Linden said.
No one became ill as a result of either incident, Vander Linden said in an email Tuesday. Both were considered "minimal risk of exposure, but personnel were monitored and thus reported as potential exposures," she wrote.
"Minimal risk is defined as an unlikely probability of exposure," Vander Linden said in the email. "Neither incident resulted in a laboratory-acquired infection or a release of agent outside of USAMRIID."
The incidents were two of eight potential exposures that originated in USAMRIID labs at Fort Detrick in 2012. The potential monkeypox and anthrax exposures occurred in Biosafety Level 3 labs, in which employees change into scrubs before working and use other protective equipment depending on the task at hand. Employees are also required to shower before leaving lab suites, according to the USAMRIID website. Employees are also rigorously trained.
Six other possible exposures occurred in BSL-4 labs in 2012. Those labs require employees to wear positive pressure suits for protection and breathe filtered air while working. Information about those potential exposures was not immediately available Tuesday.
All six of the possible exposures in BSL-4 labs resulted from the pressure suits, according to information posted on USAMRIID's website. That's up from one potential exposure in 2011. The increased prompted USAMRIID officials to seek a redesign of one of the two suits used by the lab, according to the website.
None of the employees became ill from any of the potential exposures and all were placed under surveillance by USAMRIID personnel after each incident.
The potential exposures originated from a total of 39 incidents self-reported by USAMRIID employees out of a total of 29,556 entrances into BSL-3 and 4 labs in 2012. Incidents include needle sticks, animal bites and scratches, trips, falls and other equipment failures, including those involving gloves worn with suits or the positive pressure protective suits themselves.
USAMRIID reported 62 incidents arising out of nearly 51,000 entrances into BSL-3 and 4 labs in 2011. Those included 10 possible exposures, nine of which occurred in BSL-3 labs. No one became ill as a result of those incidents.
USAMRIID's move to a centralized reporting system for incidents in 2011 has allowed the Army to better track issues that could affect the health and safety of workers, officials have said. ___
Also on HuffPost:
17 Crazy Medical Treatments In History
SUBSCRIBE AND FOLLOW
Get top stories and blog posts emailed to me each day. Newsletters may offer personalized content or advertisements.
Learn more