Don't let Jill Scott's strong vocals and independent spirit fool you. The Grammy-winning singer-turned-actress says that when it comes to being a mom, she needs all the help she can get.
"That I-can-do-it-by-myself mentality is a lie," Scott said in the cover story for EBONY magazine's May 2013 issue. "I'm sorry if I hurt anybody's feelings, but you cannot do it all by yourself. You need a village: some aunties, grandmoms, friends. I couldn't do this by myself and would be a fool to think I could," she said of raising her now three-year-old son, Jett.
Preach!
Wise words that reveal Jill has come a long way since those early days of motherhood in 2010 when she told talk show host Chelsea Handler that she considered how she could give her son back.
"I'm going to keep it real gully with you, the first two months I wanted to give him back," she told Handler. "I expected someone to come and save me because after you have the baby, nobody cares about you anymore," she recalls. "Nobody cares if you sleep, nobody cares if you eat. It's just you and this all-consuming thingy!"
Now, motherhood is about "getting your hands and your feet in the soil," Jill says. "When Jett puts my face in his hands and tells me, 'Mommy you're so pretty' or smells me, it's so wonderful."
Check out more of Jill Scott's musings on motherhood when EBONY's May issue hits newsstands on April 16.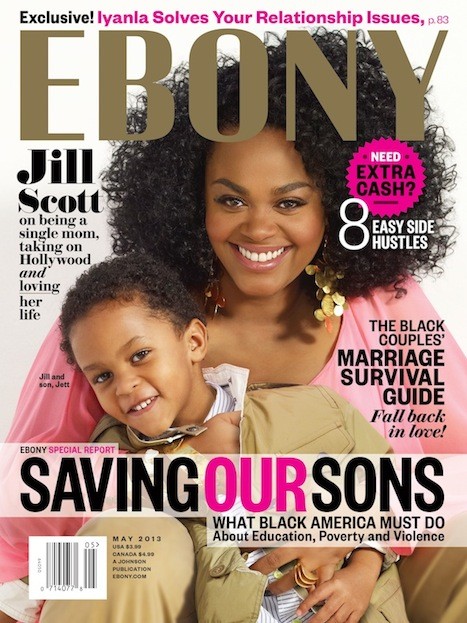 ALSO ON HUFFPOST:
PHOTO GALLERIES
Stars Who Look Better After Baby