The latest issue of the photography magazine Aperture features novelists talking about their recent photography acquisitions, including Teju Cole, Sam Lipsyte and, reprinted below, Sheila Heti.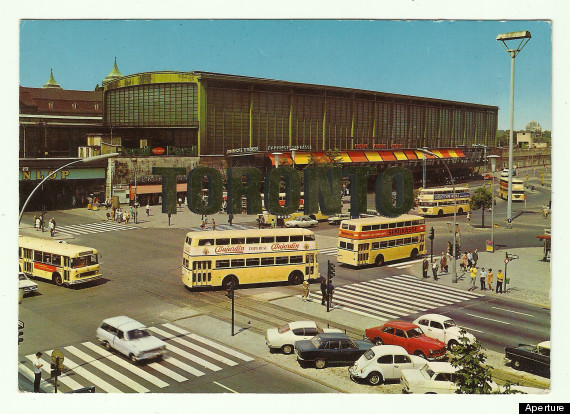 Vintage postcards foil-stamped with the word Toronto, by artist Sandy Plotnikoff, from Aperture 210
I keep these postcards, which I bought at an artists' multiples shop in Toronto, on the tall bookshelves near my desk. One is on one shelf, leaning against a row of books; the other on another shelf, leaning against some more books.
These vintage postcards were found by the artist Sandy Plotnikoff, then foil-stamped with Toronto. I bought them in 2007, when I was really dissatisfied about living here, in Toronto, my hometown, where I have been almost my entire life.
Toronto seemed to me to be just one thing, a thing I knew well, a thing I no longer wanted to engage with. I wanted to be on the sea. I wanted to be on a double-decker bus! I wanted to be in the desert. When I saw these postcards, I knew that they would make me feel better about being in Toronto. They did. They remind me, whenever I look at them, that the imagination is the best place to travel; that your city is not one thing— a thing you know well—but as mysterious as any other place; it's an illusion to think we know what a place is.
Why isn't Toronto a barge on the sea, or the Bahnhof Zoo? Every place is every place else.
Sheila Heti's most recent novel is How Should a Person Be? (Henry Holt, 2012). Taken from "Collectors: The Novelists, On Recent Acquisitions", Aperture 210

SUBSCRIBE TO & FOLLOW CULTURE SHIFT
Level up. Read THIS and be the most interesting person at your dinner party. Learn more