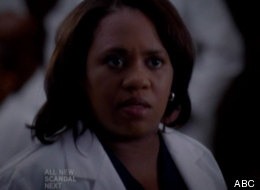 On "Grey's Anatomy," it might be the end for Dr. Bailey. She blamed her intern for the spread of a deadly infection in the hospital that was killing patients -- but it turned out that it was her.
"The only doctor who touched all three patients was you," Meredith told Bailey. "We're gonna need to get legal down here."
TVFanatic called this the biggest surprise of the night -- and fears the worst is yet to come.
BuddyTV agreed, saying this crazy twist is one of many reasons "Grey's" is on a role. "The show, which is currently in its ninth year ... is firing on all cylinders heading into the final stretch of the season."
"Grey's" is heading into hiatus -- so fans will have to wait and see what's next for Bailey.
But Wetpaint has predictions. "Bailey has done so many amazing things for the hospital .... we hope that she's not going anywhere soon. However, this could lead to a long, exhausting road of court dates ... and ultimately, being jobless."
TV Replay scours the vast television landscape to find the most interesting, amusing, and, on a good day, amazing moments, and delivers them right to your browser.