Anyone can tell you who's already made it, but HuffPost Arts & Culture's On Our Radar series is here to tell you who's about to blow up -- and, in some cases, go pop.
You've probably heard of Philip Glass but do you know Julius Eastman? After struggling with homelessness and drug addiction, the minimalist composer died in relative obscurity in 1990. With irreverent song titles like "Evil N-----" and "Gay Guerrilla," the black gay composer never achieved the legendary recognition his white contemporaries earned, until now.
In a new tribute to the departed avant-garde icon, Brooklyn-based multimedia musician Jace Clayton, also known as DJ Rupture, channels Eastman's hedonistic spirit into an experimental homage that fractures and rearranges the composer's originals. Instead of a funeral, Clayton holds a seance.
The piece, called "Julius Eastman Memorial Dinner," features three remixed Eastman compositions, interspersed with humorous vignettes. Clayton plays a pianist auditioning for the role of Eastman in the dinner theater piece, incorporating the uncomfortable, ecstatic mix of humor and hurt Eastman thrived on during his difficult career.
In anticipation of the show's debut, we reached out to Clayton to learn more. Scroll down to hear music from Clayton and Eastman.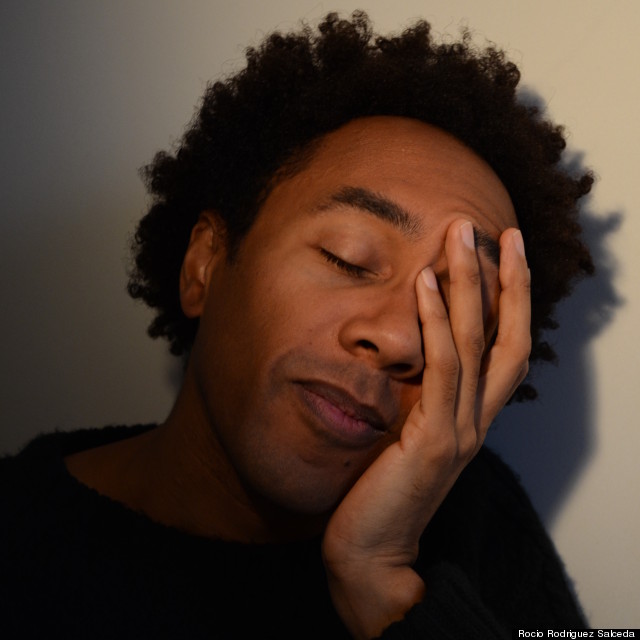 Jace Clayton by Rocio Rodriguez Salceda
HP: Would you consider "Julius Eastman Memorial Dinner" an adaptation? An homage? A translation? Does it matter?
JC: I see it as a work "in the spirit of" Eastman. After listening to his work and learning about his life, it is a response to that. It's almost like a game of tennis -- I am almost lobbying it back. There are moments when we are playing adaptations of Eastman but then there is this added layer of electronics and processing. Part of the hope is that people will get curious about the original works and return to those. But I did not want it to be just an homage. I want to think about music and his material as a living form; I want to keep that playfulness.
HP: What role does humor play in the piece?
JC: Humor, I think it's pretty important. For me it harkens back to Julius' use of the titles, which had this dark, provocative humor to them. "If You're So Smart Then Why Aren't You Rich?" is kind of great. You can say things with humor that you can't say in any other context as well, which is wonderful. And particularly in the live performance version, I realy loved this combination of very serious music-- piano and electronics-- with these flashes of humor.
HP: Aside from Julius Eastman, who else influenced this project?
JC: I have another musical project which is in hiatus now called N3ttle in Barcelona. It's all about taking acoustic instruments and then me playing beats, processing and adding effects to bring them into the electronic world. The kind of thinking I was doing and the way I was trying to pull together these different types of sound worlds, that's very much what im doing with this Eastman thing.
HP: Was this your first time acting? How was it?
JC: It was totally out of character for me; DJing is great because you don't have to talk to anybody. People know I am not an actor, so in a way it's fun because it kind of adds to the weirdness of the whole show.
HP: Outside of your work, what are you obsessed with right now?
JC: I am a book nerd. This great book "A Naked Singularity" by Sergio De La Pava -- it is a sort of under the radar book that was published last year. It shows a side of New York that you don't see in literature very often.
HP: How would your childhood music teacher describe you?
JC: What music teacher? I remember when I was in grade school I tried playing the clarinet and then we moved and I took some very basic piano lessons on and off. I was terrible at it and not interested.
HP: How do you see the role of the DJ as interacting with history?
One of the basic jobs of the DJ is to dig for records and to arrange them into an interesting context. Not just this is the hot new beat -- a good DJ's job is to look back, to take your own little course through history. History is as much an act of framing as anything else. If a DJ does his job right you're going to go back and listen with different ears.
Jace Clayton's "Julius Eastman Memorial Dinner," featuring David Friend, Emily Manzo, and Arooj Aftab will show Friday, April 5 and Saturday, April 6, 2013 at Cincinnati's Contemporary Arts Center. The performance will run at MoMA PS1 in New York on April 21, 2013.
Listen to compositions from Julius Eastman in the slideshow below and scroll down for a sampling of DJ Rupture's different modes.
PHOTO GALLERIES
Julius Eastman
PHOTO GALLERIES
DJ Rupture