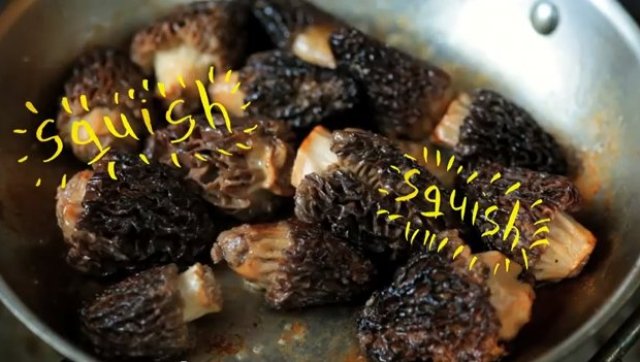 Today finally feels like spring is really around the corner (we know we've been saying that for at least a week, but we really mean it this time). To celebrate, we think you should spend about seven minutes watching some incredible chefs do incredible things with one of springs most incredible ingredients: morel mushrooms.
This video isn't really new. We've actually been holding onto it for months, just waiting for spring to rear its head so it would feel appropriate to share it with you guys. In this video, produced for the New York Times by the ever-impressive The Selby, mushroom hunter Connie Green hosts a woodsy morel cookout with some chef friends who she's taken foraging. We have never seen morels like this before. These nearly-fist-sized mushrooms get stuffed with everything from foie gras to kibbe to bratwurst, then lovingly ladled with expertly prepared sauces, all cooked over an open flame.
It's almost enough to make us want to go camping. As long as there are morels.
Happy spring, everyone!
Want to read more from HuffPost Taste? Follow us on Twitter, Facebook, Pinterest and Tumblr.