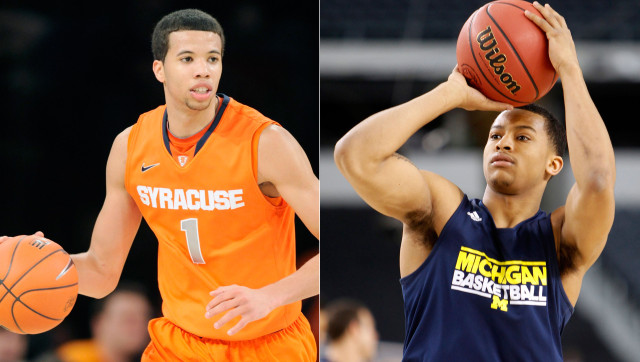 Most basketball coaches will tell you that winning comes down to either of two things: execution and whether or not a team makes its shots. Well, matchups often determine both of those things, so it's only fitting for us to examine two crucial matchups between the University of Michigan and Syracuse teams.
Mitch McGary and Glenn Robinson III vs. Syracuse Bigs
Michigan's freshman bigs have been terrific, especially McGary, who has been a double-double machine of late and is shooting 73 percent on 2-pointers during the tournament, per ESPN. But handling the length and sheer size of the 'Cuse front court is quite a task. One Western Conference scout recently told me he was "very surprised" by the size of Syracuse's players after seeing them in San Jose.
Robinson has the benefit of being able to step outside and shoot jumpers, but McGary's game is based on position and brute force. He was impressive against a physical Kansas team and 7-footer Jeff Withey, but nobody in the country possesses the length of Syracuse players Baye Keita, Rakeem Christmas and James Southerland.
Trey Burke vs. Michael Carter-Williams
The prime matchup we're all waiting for is between the nation's two best point guards. Burke is much smaller, hovering around 6-foot-1, compared to the towering Carter-Williams, who at 6-foot-6 has the ability to see over any defense.
I'm partial to Burke because he's a far more natural scorer in the half-court and a superior jump shooter, but MCW and his nearly eight assists per game are what make the 'Cuse offense tick. MCW shoots under 30 percent from distance and may be half a step slower than his counterpart, but both are lottery picks and both players can control the game without scoring.
Email me at jordan.schultz@huffingtonpost.com or ask me questions about anything sports-related at @Schultz_Report.