Ali Landry's pint-sized little girl is melting our hearts.
On Saturday, 5-year-old Estela Ines was photographed kissing her model mommy's growing baby bump while the pair walked down the red carpet at Skip1.org's Skip and Donate Gala Event in West Hollywood.
[SCROLL FOR PHOTO]

The former Miss USA confirmed her upcoming pregnancy in March, according to Us Weekly. Other than Estela, the 39-year-old beauty and her film director husband Alejandro Gomez Monteverde have one other child -- a one-year-old son named Marcelo Alejandro.
Over the last few weeks, Landry has taken to Twitter to share her latest motherhood experience with her 68,000-plus followers:
Starting my workout! Not motivated ,but I know I will feel so much better afterwards. #BabyBump

— ali landry (@alilandry) April 2, 2013
Baby checkup with Marcelo and Estela. Needless to say it was an interesting appointmentsay.ly/tmc5rOv

— ali landry (@alilandry) March 25, 2013
Sweetest moment today.... I was rocking Marcelo to sleep while the other little baby in my belly was kicking me:)

— ali landry (@alilandry) March 14, 2013
We gotta say: that's one adorable family.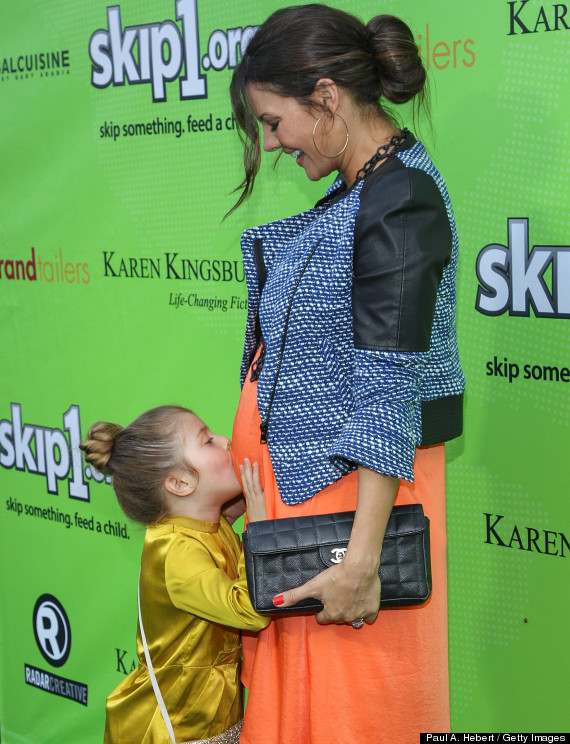 Actress Ali Landry and daughter Estela Ines Monteverde attend Skip1.org's 'Skip And Donate' Gala Event held at The Lot on April 6, 2013 in West Hollywood, California. (Paul A. Hebert/Getty Images)
ALSO ON HUFFPOST:
PHOTO GALLERIES
Celebrity Baby Bumps