HBO has unveiled the first full trailer for Steven Soderbergh's final film, "Behind the Candelabra," and it looks as advertised.
"We weren't shy about the relationship. It's pretty gay, but it's also really entertaining," Soderbergh told HuffPost Live about his new film, which focuses on the love affair between famed singer Liberace (Michael Douglas) and his driver-lover-best friend, Scott Thorson (Matt Damon). "It's fun; the two of them are great."
Soderbergh had originally intended on releasing "Behind the Candelabra" theatrically, but studios balked at the film's content, which depicts the ups and downs of Liberace's relationship with Thorson. The duo would wind up spending over a decade intertwined in each other's lives, with their attachment beginning when Thorson was just 17. ("Behind the Candelabra" is based on Thorson's book of the same name.)
"It was certainly a surprise to all of us," Soderbergh said about the reluctance studios had with financing the film. "We didn't need very much money at all. Nobody would do it."
In the end, Soderbergh took the film to television, where, he says, the audience "likes to go narrow and deep as opposed to broad and superficial." Not that "Behind the Candelabra isn't broad and superficial as well; just look at this screenshot of Rob Lowe's face: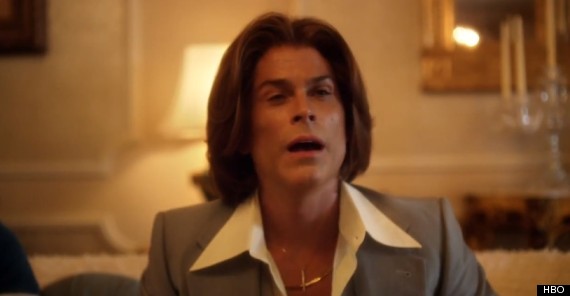 "Behind the Candelabra" premieres on May 26 on HBO. Watch the new trailer above.
Movies To Celebrate Pride
SUBSCRIBE TO & FOLLOW ENTERTAINMENT
THE spot for your favorite fan theories and the best Netflix recs. Learn more