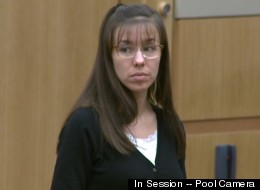 The psychotherapist for accused murderer Jodi Arias will once again take the stand Monday as she faces off with Arizona prosecutor Juan Martinez.
On Thursday, the defense finished its direct examination of Alyce LaViolette, a psychotherapist and domestic violence expert retained by Arias' defense team. She testified Arias was physically and emotionally battered by Travis Alexander and feared for her life when she killed him.
LaViolette's finding challenges the prosecution's contention that Arias, 32, premeditated Alexander's slaying. The defense contends Arias, emotionally and physically battered and afraid for her life, acted in self-defense and did not plan to shoot Alexander in the head, stab him almost 30 times and cut his throat from ear to ear in his Mesa, Ariz., home in 2008.
For the prosecution, proving Arias' intent is key to sustaining the first-degree murder charge. Arias, jealous of Alexander's interest in other women, attacked him in the bathroom of his home after the couple spent the afternoon having sex, according to the prosecution.
During cross-examination, Martinez repeatedly questioned LaViolette about her methods for determining Arias was a victim of domestic violence.
"Basically, a clinical interview is you sitting across from the person that may or may not be a victim of battering and ... you interview them?" Martinez asked of LaViolette's evaluation techniques. The line of questioning prompted LaViolette to ask her own unexpected question of the prosecutor.
"Mr. Martinez are you angry at me?" LaViolette asked suddenly, prompting laughter from the gallery.
"Is that relevant to you ... is that important to you whether or not the prosecutor is angry … does that make any difference to your evaluation whether or not the prosecutor is angry -- yes or no?" Martinez fired back.
LaViolette replied, "It makes a difference to me the way I am spoken to and I would like you to speak to me the way I speak to you."
Arias is charged with first-degree murder and could face the death penalty if convicted.
The trial is set to resume at about 12:30 p.m. Eastern time, when Martinez is expected to continue his cross-examination of LaViolette.
Read below for minute-by-minute updates from court Monday:
Martinez pointed out that Arias took a test that shows her self-image is in the normal range. LaViolette said self-image is different that self-esteem. The defense objected to the line of questioning and the attorneys are now at another sidebar with the judge.
The Huffington Post is live blogging Monday's testimony. Check back here for updates.