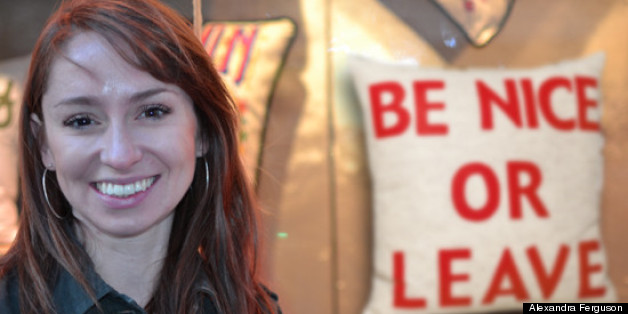 One of the reasons I started my website is that I wanted a place for women to come together and dream. We women need to know that we don't have to hang on to an old dream that has stopped nurturing us -- that there is always time to start a new dream. This week's story is about a fashion-loving businesswoman who turned a casual hobby into a business on track to hit a million dollars this year. Alexandra's fun pillows add some sass to home decor -- and prove that the biggest hurdle is getting started. -– Marlo, MarloThomas.com
By Lori Weiss
One glance at Alexandra Ferguson and you can't help but think that she's a fashionista. Her closets are filled with designer dresses and gowns, all pieces she collected while perfecting the art of garment construction and running the sample rooms for designers like Rebecca Taylor and Zac Posen. But today, Alexandra wants you to look past her picture-perfect image and listen to what's on her mind. So much so, she's plastered her thoughts on pillows -- thousands and thousands of pillows.
"I was really just trying to come up with an idea for a friend's birthday," she explained. "I was racking my brain. I wanted to buy something for her home, something that was pretty and feminine, but I couldn't find anything within my budget. So I pulled out the secondhand sewing machine I had stashed away in my closet and decided I'd make her some pillows with a botanical theme."
"I had so much fun doing it that I decided to make them for everyone at Christmas. I got a little carried away though. I think I made 30 or 40 of them."
Fortunately for Alexandra, a friend of a friend happened to spot a set of the perfectly crafted presents and suggested that Alexandra begin selling them. She even sent along a list of places to consider, and on it was an e-commerce site for creative types called Etsy.
"I had three or four still sitting around, so I thought, 'What have I got to lose?' It literally took 15 minutes and $1.50 to start my business. And once I had an Etsy shop, I had a reason to make more!"
It was 2009, and as Alexandra sat at her sewing table, cutting out felt patterns of flowers, the TV was quietly humming in the background. President Obama had just been elected to his first term and he was giving his inauguration speech. And as he uttered the now famous phrase, "Yes we can!" Alexandra found her careful stitching moving in a completely different direction -- one that would turn her little hobby into hundreds of thousands of dollars.
"There was such a feeling of excitement," she recalled. "Everyone was so invigorated. So I thought I should put those words on a pillow. It sold within a week. So I made a second one and that one sold! Then I got a request for a series -- 'Yes We Can', 'Yes We Did' and 'Yes We Will'. By my fourth order, I was ready to quit my job! I thought of it as my own personal stimulus package."
And clearly, Etsy thought it might be theirs as well. Within weeks, Alexandra was on their homepage as a featured seller. Her words were echoing as far away as Europe and suddenly, she had to come up with a whole lot more of them. As it turned out, they were right at her fingertips.
Article continues below slideshow.
It Ain't Over: Alexandra Ferguson
She began with a collection called "House Rules" -- whimsical phrases many hosts would like to say, but feel more comfortable expressing on their couch. "Be Nice Or Leave," an early bestseller, was inspired by a boyfriend who needed to leave and eventually did. "It Wasn't Me" came from Alexandra's childhood, when she was still practicing her artistry -- on her mother's walls.
"I was in my crayon stage," she laughed, "but even at the age of four I knew I was doing something wrong. So I signed my brother's name on the wall. He was only two-and-a-half -- he didn't even know how to spell his name -- but somehow I got off scot-free!"
And then there was the "Good Advice" category, which often came from that same very patient parent -- and began with "Call Your Mother."
"Ironically, I don't need that one, because I already call her every day! But she always said it to my brother. So when The Today Show featured it as part of a round-up of dorm ideas, he saw it and took the hint -- and called her from his military base in Afghanistan!"
Soon there were more than a dozen groupings. Alexandra's colorful statements ranged from Zen expressions like "Breathe" to the more flirtatious "Let's Make Out." And it wasn't long before the wordsmith evicted herself from her own living room and moved production into her mother's Westchester, NY, garage.
Within two years, Alexandra had gone from producing a few too many pillows for Christmas to 4,000 that were being sold around the world. Boutiques were discovering her on Etsy and asking whether they could buy wholesale and she began showing her wares in person -- first at a Brooklyn flea market and not long after, at the New York International Gift Fair.
And while the budding entrepreneur thought she'd leave her fashion career early on, she discovered that the more the business grew, the more she needed a regular income to supplement it.
"I was asking a lot of the company to support itself and me," Alexandra said. "And I was bored of being broke. I wanted to take the financial pressure off the company. So I hired someone to manage the day-to-day operations and I took a full-time job in product development for an accessories company."
"But eventually the travel schedule just got to be too much. I was overseas all the time and trying to manage my company remotely with a 12-hour time difference. I hit a point where I either had to quit my job or close the company. It was a really hard decision. But I wanted to be in control of my own life."
So, on the third anniversary of the company, Alexandra woke up and went to work full time for herself.
"There was a time when people would call and they could never get me. Now when they call and ask for customer service, I'm here to take those calls. And if they ask for fulfillment or production or public relations, I take those calls too! I'm all hands on deck. When we're done here, I'm going to go cut some fabric."
But her many roles haven't kept her completely off the road. Last summer she made her way to the summer Olympics in London, where her family is originally from, and she took some time out to stop at a store she'd loved from the time she was a young girl -- the luxurious Liberty of London. And there on the very top floor, nestled on the beautifully upholstered couches, were her hand-crafted pillows.
"If I had thought about where I'd be now four years ago," Alexandra continued, "I don't know that I could have imagined it. If I'd thought it through, I probably would have freaked myself out. I didn't spend six months with a business plan. I kept it on a short rein. My brain could only go to, 'How am I going to sell 25 pillows?' I sort of figured it out as I went along. I just solved problems as they came up.
"For a long time I felt badly about that, but for me, it was actually a brilliant way to go about it. People get stuck in the thinking stage and they never get to the doing stage."
And this year, Alexandra Ferguson's company is expected to do something bigger than she ever anticipated. This year's projected revenue is aimed right at the million-dollar mark. She's considering building a state-of-the-art factory in Brooklyn and has her sights set on more than just pillows. Alexandra plans to put her words on the tip of everyone's tongues, table tops and bed linens. Clearly that very first phrase she sewed onto a pillow -- "Yes We Can" -- spoke to her.
"Just do it. Don't wait until everything is perfect. The important thing is to put yourself out there and evolve alongside your product. Grow at a pace you're comfortable with."
"When I first started out," she said with a smile, "my favorite pillow was the one that was selling best. Along the way it became 'Be Brave.' But today, it's definitely 'There Were Rules?'"
Add Marlo On Facebook:
Follow Marlo on Twitter:

Weekly Newsletter
Sign up to receive my email newsletter each week - It will keep you up-to-date on upcoming articles, Mondays with Marlo guests, videos, and more!
SUBSCRIBE TO & FOLLOW THE MORNING EMAIL
Start your workday the right way with the news that matters most. Learn more