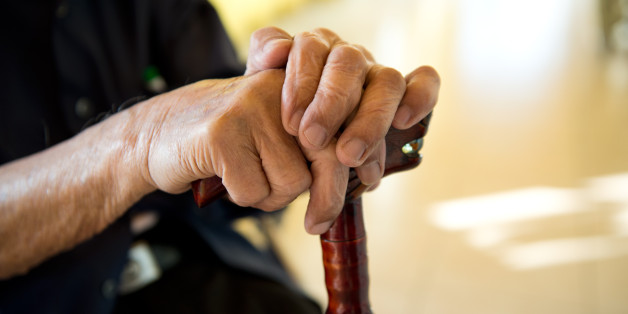 For three years after chronic back pain finally caused her to leave her job waiting tables, Julia Juan says she tried to find work that her body could handle. At one point, she spent $30,000 on a food truck thinking that she could manage a job that didn't require her to walk around too much.
But when the economy collapsed, the business failed, and in 2008, Juan filed for disability benefits.
Five years later, she's still waiting for a check. "It's terrible," she said. "I worked 35 years in this country and I just want the benefit I earned."
In recent weeks, a run of press coverage has portrayed the disability system as a way for able-bodied people to con their way into government handouts. But many economists and advocates for the disabled say these reports leave out an important fact: While some people on disability may have gamed the system, many who really need the benefits haven't been able to get them.
"There might be a few people who are exaggerating, but there are a lot of people who are plenty sick who don't get on disability," said Monique Morrissey, an economist with the Economic Policy Institute in Washington. The claims and appeals processi is complicated and costly, Morrissey said, but the alternative "is that you let people who are sick and can't work, starve."
Juan's saga began when a dishwasher broke at the Waffle House in Florida where she was a waitress. The servers were told to carry baskets of dishes to a sink in the back of the kitchen, but after picking up the first basket, Juan felt a twinge in her back and told the managers she needed to go home. "They told me if I couldn't do the job I shouldn't come back," she said.
That was the end of a 35-year career that included stretches at a coffee shop in Manhattan, a Greek diner in Queens, and what Juan fondly remembers as "the queen mother of all Jewish delis" in Miami.

In 2008, Juan, 60, moved back to New York with hope of finding work. She believed the city would offer a wider range of opportunities. But on her first day, as she dragged her suitcase through Penn Station, the pain got worse.
By the time she arrived in her new neighborhood on the subway, the pain was so bad that she had to a call an aunt to walk her home.
With her long work history, Juan might have seemed like a good candidate for benefits. But she had the bad luck of filing her claim with a Social Security office in Queens with one of the highest rejection rates in the country.
Juan twice appeared before the same judge, David Z. Nisnewitz; both times, Nisnewitz rejected her claim.
Federal appellate judges who later reviewed Nisnewitz's decisions criticized his courtroom manner as a "study in combative questioning, which hampered the truth seeking process." Juan and others say he raised and sustained his own objections to the testimony of medical experts, and seemed to be following his own whims rather than appropriate courtroom procedures.
Earlier this year, after Juan and 10 other plaintiffs joined the Urban Justice Center in filing a class-action lawsuit against the Queens office, the Social Security Administration removed Nisnewitz as the chief of the Queens review board and agreed to a settlement that will allow the applicants to appear before new judges. Juan is scheduled to go back to court in April.
In the meantime, she's living off public assistance. "It's terrible," she said. "I was always a productive woman, an independent woman, and every day I still ponder if there's work I can do. I believe in God and I say, 'God, I still want to feel productive in my life.' But I don't even know how to type."
"Our experience is that our clients want very much to work," said Emilia Sicilia, a lawyer representing Juan and the plaintiffs in the class-action suit. "These benefits are very much a last resort."
The latest controversy over the disability system erupted last month, when "This American Life" on NPR aired a story that portrayed the system as "a de facto welfare program." The story went viral on conservative websites, and the Wall Street Journal published its own article about a truck driver with back pain who applied for disability benefits because he couldn't find a job.
Some of the reports cite a recent spike in applications for disability benefits as evidence that people who need jobs are turning to the disability system instead. But critics say these reports are misleading.
"These stories make it sound like all you need is a willing doctor to sign off and then you get paid," said Sicilia. "Nothing could be further from the truth."
The NPR piece and other recent reports relied heavily on research by David Autor and Mike Duggan, economists at the Massachusetts Institute of Technology and the University of Pennsylvania, respectively.
Autor and Duggan found that the number of applications for disability benefits shot up during the recent economic downturn, and that what they call "squishy" conditions like back pain and mental disabilities are more likely to lead to an allowance now than they were 20 years ago.
But some economists take issue with their work. Among them is Kathy Ruffing, a senior fellow at the Center for Budget and Policy Priorities in Washington, who conducted an extensive review of the past literature on disability benefits and said that Autor and Duggan overstate how easy it is to get an allowance.
"It's widely acknowledged that applications to the program rise in economic downturns," she said. "However, if you want to analyze the growth in receipt, you obviously have to figure whether those applications are allowed. And although it's a little too early to tell in this era, there is evidence that the kind of applications that are spurred by an economic downtown are more likely to be denied."
According to data from the Congressional Budget Office, more than 60 percent of initial disability claims are denied.
Although the number of people who do receive benefits is about three times as high as it was in the mid-1980s, Ruffing mainly attributed this to non-economic factors like the the aging workforce and the scarcity of health insurance. "When you properly adjust for these factors, you have a more modest story," she said. "The problem is there are no headlines in modest stories like that."
Autor and Duggan said they were unavailable to speak about their research.
The Social Security Administration considers someone disabled under Social Security rules if they cannot do the work they did prior to their disability.
"We decide that you cannot adjust to other work because of your medical condition(s); and your disability has lasted or is expected to last for at least one year or to result in death," according to the agency's website.
The Social Security Administration oversees both retirement and disability benefits. Juan will have to wait another two years before she's eligible for any retirement funds.
Rebecca Vallas, a lawyer who represents disability applicants in Philadelphia, said it's not just the Queens office that is strict about admitting people to the program.
"I turn away a lot of people who actually seek my help, because their disability, though existent, does not rise to the requirements of the system," she said. "I turn away people with kidney failure, multiple sclerosis, fibromyalgia. It's not enough to have a disability -– you have to have a really serious disability."
Vallas said she wasn't surprised by the recent attacks on the program. "There are a lot of critics out there who want to see the program cut," she said.
Correction: An earlier version of the story incorrectly suggested that Monique Morrissey views the benefits system as costly. In fact, she was only referring to the claims and appeals process, not the benefits themselves.
ALSO ON HUFFPOST:
PHOTO GALLERY
BEFORE YOU GO
Americas Deadliest Jobs 2012
PHOTO GALLERY
Americas Deadliest Jobs 2012