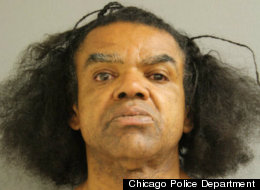 An alleged bank robber with a memorable mug was arrested Sunday and caught with heroin in his shoe after a tipster recognized him in surveillance footage posted online over the weekend.
According to the Chicago Tribune, 57-year-old Jack V. Dudley allegedly entered an Amalgamated Bank branch in the Loop last Friday and handed the teller a note reading, "I have a gun. $100's and murder" before making off with an undisclosed amount of money.
A "concerned citizen" later Friday contacted police and told them Dudley was the robbery suspect they were looking for, at which point an officer saw a surveillance image released by the FBI and posted on ChicagoBreakingNews.com and tracked the man down.
Dudley has not been charged in connection with the alleged robbery, however: Instead, he was charged with possession of a controlled substance after police found heroin in his shoe when they found him hiding out inside a gold Jeep near his home in the 4400 block of West Jackson Boulevard, DNAinfo Chicago reports.
Police also found a sweatshirt that resembled the one worn by the suspect in the bank robbery, according to DNAinfo.
The Chicago Sun-Times reports Dudley goes by the street alias of "Zodiac" and is allegedly a member of the Gangster Disciples. More charges are expected to be filed against Dudley this week.